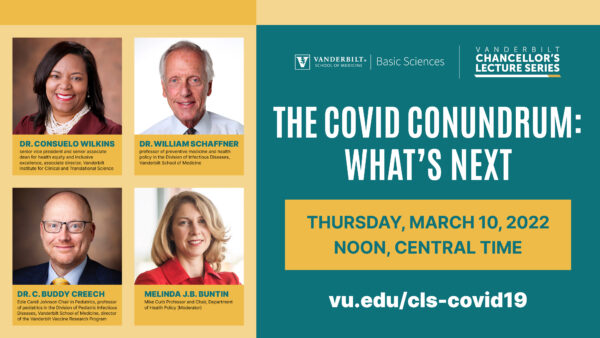 Registration is now open for a special panel discussion about the future of COVID-19, featuring some of Vanderbilt University's leading experts in COVID vaccines, infectious disease and public health.
The virtual discussion, "The COVID Conundrum: What's Next," will be Thursday, March 10, at noon CT. Panelists will talk about the trajectory of variants, global travel, and the accessibility and equity of vaccines and boosters, among other timely topics.
Chancellor Daniel Diermeier will host the event with opening remarks. The virtual panel is hosted by the Vanderbilt Chancellor's Lecture Series in partnership with the Vanderbilt School of Medicine Basic Sciences.
The event is open to all. Registration is required.
REGISTER FOR THE VIRTUAL EVENT.
The panel discussion will be moderated by Melinda J.B. Buntin, Mike Curb Professor and chair of the Department of Health Policy.
PANELISTS:
Dr. Consuelo Wilkins, senior vice president and senior associate dean for health equity and inclusive excellence, and associate director of the Vanderbilt Institute for Clinical and Translational Science
Dr. William Schaffner, professor of preventive medicine and health policy in the Division of Infectious Diseases
Dr. C. Buddy Creech, Edie Carell Johnson Professor of Pediatrics in the Division of Pediatric Infectious Diseases and director of the Vanderbilt Vaccine Research Program
Vanderbilt has been on the forefront of coronavirus research and innovation. The Vanderbilt Vaccine Center recently discovered a COVID-19 antibody combination that was granted emergency use authorization by the U.S. Food and Drug Administration. Meanwhile, Creech and his team have participated in several NIH-funded trials of COVID-19 treatments, conducted phase 3 studies of the Moderna mRNA vaccine and the Johnson & Johnson adenovirus-vectored vaccine, and have been developing new ways to test immune responses in patients who have recovered from the highly contagious virus.
In addition, alumnus Dr. Barney Graham used groundbreaking research that began at Vanderbilt decades ago to help develop the first COVID-19 vaccines.
CHANCELLOR'S LECTURE SERIES
Vanderbilt Chancellor's Lecture Series strives to connect people in the Vanderbilt community and beyond with leaders and visionaries who are shaping our world.
Sign up here to learn more about future speakers and the event series.