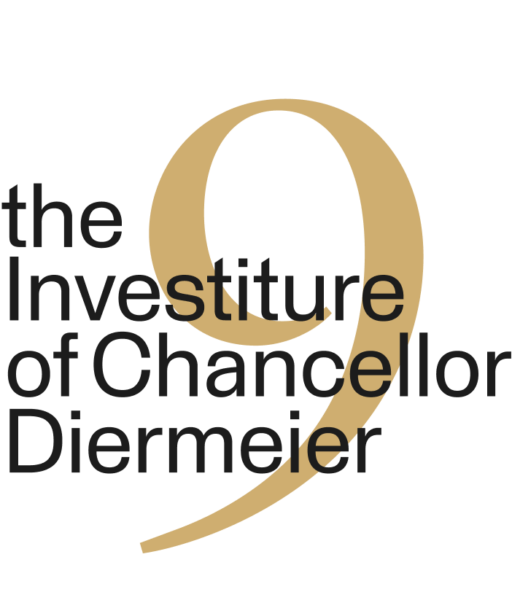 The Vanderbilt University Board of Trust will host a series of events April 8–9 as part of the investiture of Vanderbilt's ninth chancellor, Daniel Diermeier, including a formal ceremony with academic regalia and honored guests. An investiture is one of the oldest traditions in academia, an occasion for conferring new roles to university leaders and faculty.
Though Diermeier began leading Vanderbilt on July 1, 2020, the Board of Trust postponed the investiture to help protect the health and safety of the community during the height of the COVID-19 pandemic.
"We are excited to finally be able to hold this event and celebrate this new chapter of the university's history," said Bruce R. Evans, BE'81, chairman of the Vanderbilt University Board of Trust. "In addition, I look forward to events accompanying the ceremony that will focus on Vanderbilt's role as a transformative force in higher education and innovation. Chancellor Diermeier is a champion of ambitious thinking and bold action. These are precisely the qualities we need as we work to elevate Vanderbilt's mission today and for future generations."
On Friday, April 8, Vanderbilt will host panel discussions that address its role in the future of higher education and the contributions of leading figures in the university's history. These events will be hybrid—attendance can be virtual or in person—and followed by a livestreamed symposium on the role of academic research in innovation.
The formal investiture ceremony on Saturday, April 9, will be streamed live on the Vanderbilt website. The event will begin with a procession by Vanderbilt's own faculty and leaders of other universities wearing their full academic regalia. Evans, Diermeier and university leaders will be among those speaking at the ceremony, during which there will be a presentation of the symbols of office to the chancellor.
The investiture ceremony will be followed by a celebration on Alumni Lawn, which will feature live music and activities and be open to all Vanderbilt community members.
Since the start of his tenure, Diermeier has encouraged the university to define its own path while setting and working toward aspirational goals. Initiatives launched under Diermeier's leadership include Destination Vanderbilt, a $100 million initiative to recruit standout faculty; the Vanderbilt Project on Unity and American Democracy, a nonpartisan initiative that aims to elevate research and evidence-based reasoning into the national conversation; and the James Lawson Institute for the Research and Study of Nonviolent Movements.
Visit the Vanderbilt Investiture website for the latest updates.