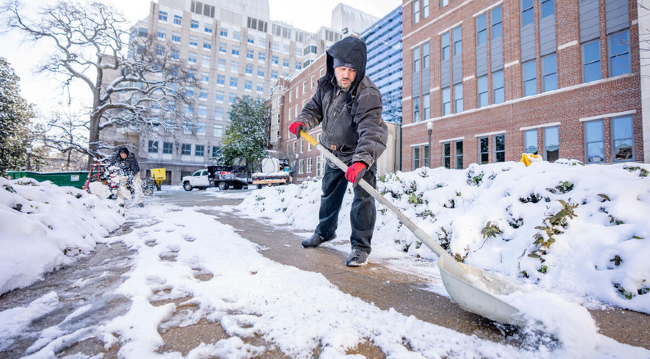 As faculty and students planned for the start of spring classes, Vanderbilt University staff worked diligently to prepare for the semester as well as ensure that members of the campus community were as safe as possible during winter weather earlier this month.
The Facilities department, already prepping campus for the new semester, took on extra duties to serve the community as snow blanketed Nashville in early January. Grounds employees operated at full staffing capacity to address safety issues and remove snow and ice from various areas around campus.
"First and foremost, I want to thank each one of our grounds employees who deserve praise for their work in adverse, cold conditions to make campus as safe as possible for our community," said Michael G. Perez, associate vice chancellor and chief facilities officer. "I also want to thank shop managers Jimmy Thompson, Jesse Chandler and Mike Meadows, who were able to help us move their employees to the right areas to help ensure we kept dining centers operational and residential halls and sporting event venues accessible and safe."
With more than 70 employees staying overnight during the first snowfall and more than 45 staying during the second weather event, the Facilities department's business operations team organized accessible overnight accommodations so that staff could keep the university operational.
While preparing for the ramp-up of dining operations for the semester, Campus Dining found accommodations for 90 employees to ensure that all operations opened on time and were ready to serve the Vanderbilt community.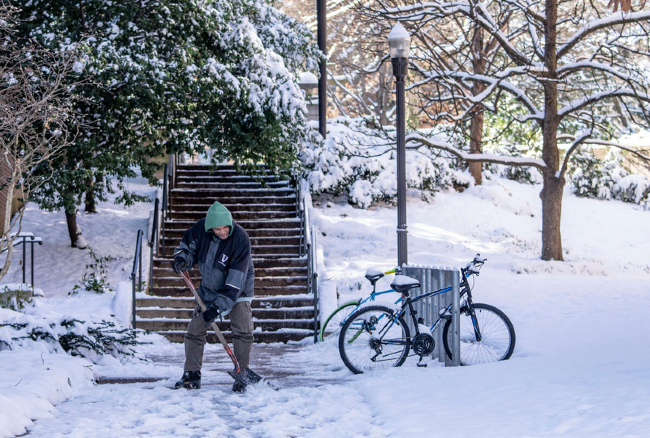 "All of our staff deserve tremendous praise for the hard work they put in during these events to make sure everything continued to be open and running," said David ter Kuile, associate vice chancellor for auxiliary services. "Just to capture a small portion of their dedication, I want to give a special thanks to Daniel Vonner, who serves as a retail market clerk. He stayed at the hotel we provided during both weather events and worked in different operations—even though he had not been scheduled to work. His commitment to serving our students is one that should be celebrated. Kissam manager Ellen Marconi did the same, ensuring that the space was open and that the allergen program operated and served students who have special dietary restrictions."
In addition, The Commons' dining manager Shaun McCollough and general manager Jeff Weissinger oversaw efforts to produce hot meal options, snack bags and beverages for Dining Services and Mail Services team members who stayed overnight. Brian Cochrane, a chef at Rand, and Nick Dolata, general manager at E. Bronson Ingram, oversaw operations to ensure that students, Vanderbilt University Public Safety staff and Facilities staff were fed during the winter weather.
Housing and Residential Experience staff already were working around the clock to welcome students back for residential move-in the weekend before the second weather event. The Residential Experience team coordinated with Public Safety and Campus Dining to deliver food to students in quarantine and isolation housing while Nashville delivery services were limited. The Housing Facilities team worked to make sure the residence hall buildings were safe and free from maintenance issues.
VUPS, which includes the Police Department, Transportation Services and the Office of Emergency Management, worked tirelessly to provide exceptional service to the community during the recent winter weather.
"Both instances highlight the incredible partnership between VUPS and other internal departments, especially Facilities, Campus Dining and the Office of the Dean of Students," said August Washington, associate vice chancellor.
More than 50 personnel worked during both weather events over multiple shifts to maintain target staffing levels. The incident command system was activated with personnel from the Office of Emergency Management to assist with coordinating lodging for shift personnel, in addition to coordinating with Facilities, Dining Services and Housing. The Emergency Operations Center was active for more than 30 hours over the span of the two snowstorms to monitor weather conditions and potential safety hazards and communicate forecast information to the community.
VandyRide shuttles were operational to transport passengers across campus, and personnel responded to assist with stranded vehicles, traffic accidents, escorts and transports as well as slips, trips and falls. More than a dozen jumpstarts were provided to stranded travelers across the university campus, Vanderbilt University Medical Center and Vanderbilt Health One Hundred Oaks.
Caitlyn French, the university's meteorologist, provided frequent updates to the community and to Facilities and Dining Services while Todd Anderson, fleet manager, worked tirelessly to ensure that all Public Safety vehicles were clear of snow and ice. Majors Corwin Thomas in the Campus Precinct, Randy Hunter in the Medical Center Precinct and Vivienne Irizarry in the One Hundred Oaks Precinct worked around the clock to ensure that their personnel were able to make it to and from their precincts safely.