Media Inquiries
Latest Stories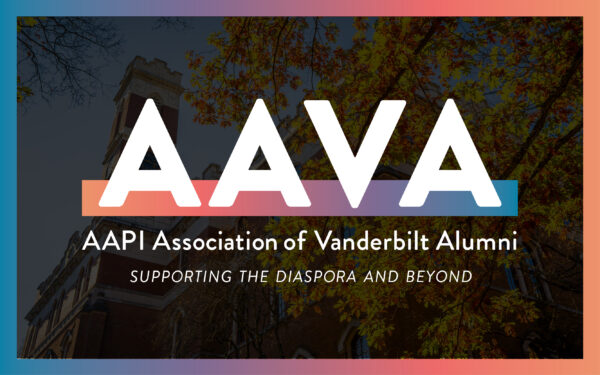 Vanderbilt has launched a new alumni affinity group for Vanderbilt's Asian American and Pacific Islander (AAPI) community, supporting the diaspora and beyond. The AAPI Association of Vanderbilt Alumni (AAVA), launched in January, aims to connect alumni with one another as well as with current students and the broader Vanderbilt community.  
"We hope this group serves as a support system to advocate, mentor and build community for students, faculty and alumni alike," said Dr. André Churchwell, BS'75, vice chancellor for equity, diversity and inclusion and chief diversity officer. The Office for Equity, Diversity and Inclusion also has created an AAPI Employee Affinity Group on campus.
AAVA's launch was nearly a year in the making. Beginning in February 2021, Vanderbilt's Alumni Association conducted focus groups and individual conversations with several alumni and current students to build a steering committee and select a name and mission for the group. The AAVA Steering Committee members are Iris Kim, BA'21; Hubert Ma, BE'99; Amanda Nguyen, JD'14; Ankita Rakhe, BS'03; Tiffany Tieu, BMus'12; and James Tsai, EMBA'98.  Learn more about the committee.

"As a first-year student, I was told to make the most out of my four years in Asian American student activities, because such communities don't exist past graduation," Kim said. "I envision AAVA breaking that mold, building strong connections that extend beyond campus and making an impact for current students." 
Any Vanderbilt alumni whose demographic information in university records shows they are members of the AAPI community are automatically considered members of AAVA and should have received the kickoff newsletter in December. If you did not receive the AAVA newsletter and would like to, please contact affinitygroups@vanderbilt.edu to be added to the mailing list. 
Upcoming AAVA events include an event presented in partnership with the Vanderbilt University Alumni Book Club: a virtual discussion with Charles Yu, author of Interior Chinatown, on Wednesday, March 9. Alumni, faculty and staff are welcome to attend.