by Amy Wolf
Not that long ago, Vanderbilt's campus was covered with signs, posters and stickers encouraging COVID-19 health and safety protocols as part of the Anchor Down, Step Up campaign. Recognizing the historical importance of these artifacts, Shaul Kelner, associate professor of sociology and Jewish studies, has transformed them into a pop-up art installation on the third floor of Garland Hall.
"I created this art installation as a bit of nostalgia to remember how surreal it was being on campus during the 2020–21 school year and for the people who were not here to get a taste of what it was like," Kelner said. "We are living in a historic moment, and I like the idea of actually being aware that we're in a period piece. We don't want this time to be forgotten."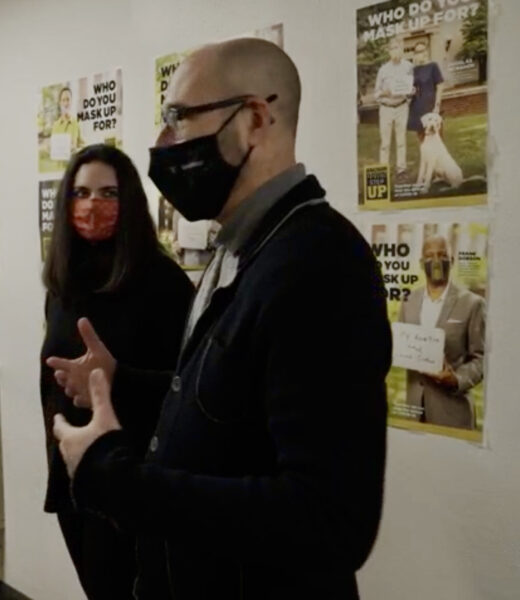 The art installation, which features, among other things, the ubiquitous masked squirrels of the Anchor Down, Step Up campaign, also showcases faculty, students and staff.
"It was very cool seeing these posters because I recognized some of my professors on them, and it made me feel like we really were in this together," said Russian and philosophy double major Nadia Matin, who lived on campus during the 2020–21 academic year.
"What was strange to me about walking this exhibit is just how much of this time has already been forgotten," she said. "It's very strange to be a part of lived history and simultaneously how quickly we forget."
While 2020 was often filled with fear of the unknown, Matin feels more prepared now, even as the pandemic evolves.
"If there's one thing the pandemic taught me, it was that we really don't know what's coming. But I think we are safe with the fact that we'll be able to handle it no matter where it goes," she said.
Kelner hopes those who visit the exhibit in Garland Hall will also see it as a tribute.
"It's also meant to recognize all the people who did the work to actually transform the campus," he said, "which made it possible for us to be here on campus, teaching and learning together in person."
 VANDERBILT INVITES YOU TO SHARE YOUR STORY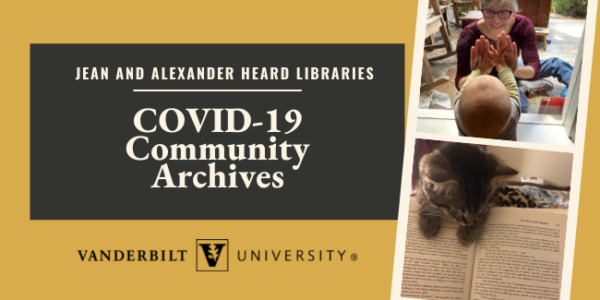 As Vanderbilt and the world navigate the ongoing COVID-19 pandemic, members of the Vanderbilt community are encouraged to share their stories, artifacts and memories as part of an archive project designed to chronicle this era for future generations.
The COVID-19 Community Archive is collecting submissions of the following:
personal and anecdotal accounts
emails
journals
social media posts
photos
videos
audio recordings
physical items
artistic depictions
poetry
Contributors to the archive will have the opportunity to choose whether their submissions may be viewed by the public in a future virtual exhibit and whether to attach their name.
CONTRIBUTE YOUR STORY OR ARTIFACTS HERE.
This effort complements the publication of A Year Like No Other, a book documenting Vanderbilt's experience reopening its campus in the fall of 2020. The book also explores the foundational work conducted by Vanderbilt researchers to develop and test COVID-19 vaccines and therapies in record time. Proceeds from sales of the book will go to the Opportunity Vanderbilt financial aid program.