Vanderbilt alumni Brad Potteiger, MS'16, PhD'19, Tim Potteiger, MS'17, and Michael Bryant, MBA'12, are the co-founders of ARMS Cyber, a cybersecurity company that proactively eliminates zero-day attacks, which target software security vulnerabilities before developers have the opportunity to patch them. The company recently earned two accolades: a $750,000 Phase II Small Business Technology Transfer grant from the U.S. Air Force and the grand prize in a tech startup competition hosted by VetsinTech and JPMorgan Chase.   
The one-year Phase II STTR grant will help ARMS Cyber continue its research and development. Funding is based on results during the Phase I grant period and on the scientific and technical merit and commercial potential of the proposed Phase II project.  
The VetsinTech prize is $25,000, plus mentorship for ARMS Cyber by senior leaders across JPMorgan Chase. Participation criteria were that businesses be founded by veterans or military spouses and ideally offer a tech solution relevant to financial services, including cybersecurity, artificial intelligence and machine learning.  
ARMS Cyber was fostered through the Wond'ry, Vanderbilt's Innovation Center.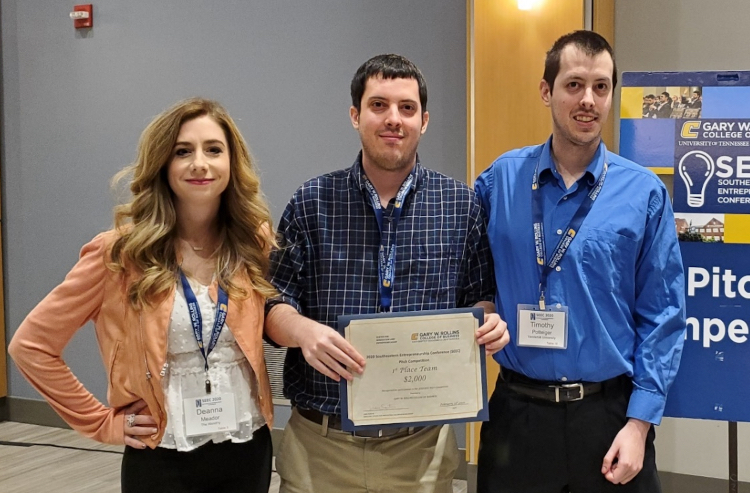 "Working with ARMS Cyber has been an exciting ride and one that exemplifies the goals and mission of the Wond'ry," said Deanna Meador, the Wond'ry's director of entrepreneurship. "Watching students transfer what they learned at Vanderbilt and the Wond'ry into a company that is solving a serious and emerging global threat is an accomplishment the entire Vanderbilt community can be proud of."  
After participation in the Wond'ry's PreLaunch program, which supplied microgrant funding, the team went on to win first place in the Southeastern Entrepreneurship Conference's student pitch competition and the 36|86 pitch competition. They also were selected for the National Science Foundation's Innovation Corps and the Catalyst Accelerator in 2020.   
The Potteiger brothers and Bryant have a blend of tech and government expertise, including stints with the NSA, NASA, the White House, Amazon and Techstars. Tim Potteiger has built safety-assurance modules for operational NASA missions, while Brad Potteiger developed geo-spatial analytics and cyber exploitation technology for supporting the success and safety of warfighters overseas. Bryant, former director at the Center for Entrepreneurship at Owen Graduate School of Management, served in the U.S. Marines as a field artillery officer from 2006 to 2010. His service included deployments to Iraq and Afghanistan.   
"Many don't realize that an entrepreneurial spirit is implicit in military service—both for the service members and their spouses," said Mark Elliott, a retired U.S. Army colonel who is head of military and veterans affairs at JPMorgan Chase. "Military life involves constant flexibility and organization and gaining trust in new settings, which are all critical skills for building a business."   
Bryant, CEO of ARMS Cyber, said in a release: "We are honored and excited to be recognized for our innovative cybersecurity solutions. Both of these awards put us in outstanding company, and we're privileged to be developing our technology to potentially be integrated at the highest levels of the U.S. military. We are thankful for the ongoing support and investment that we receive."