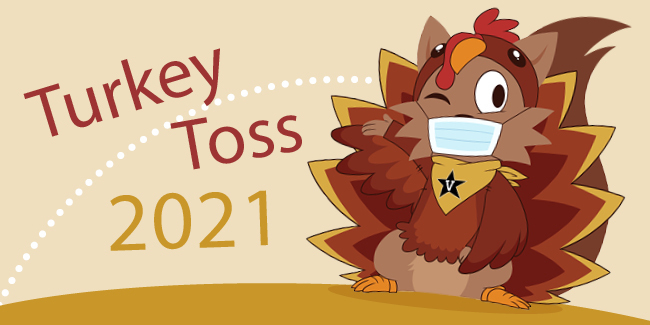 Vanderbilt University faculty, staff and postdoctoral scholars are invited to participate in Turkey Toss 2021 on Friday, Dec. 17, from 7 a.m. to 6 p.m. The drive-through event will take place in Lot 5A at the corner of 21st Avenue South and Terrace Place, across from the Baker Building and adjacent to the University Counseling Center.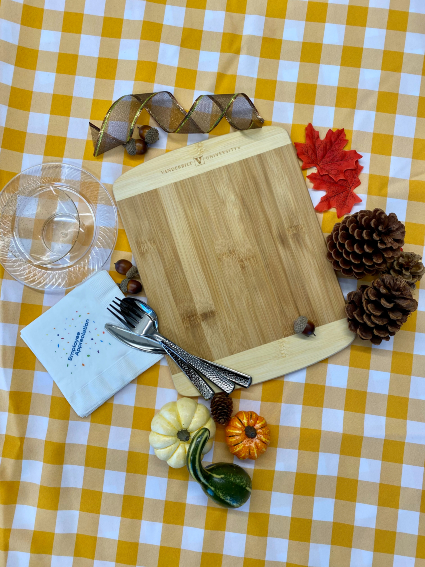 Participants will enter Lot 5A from 21st Avenue South and remain in their vehicles. Volunteers will request to see a Vanderbilt ID and take their request for a free turkey, tofurkey or this year's gift item, a Vanderbilt University wooden cutting board. Quantities of the cutting board are limited, so come early to claim those. Volunteers will load the selected item into the vehicle's trunk, back seat or passenger-side door, then the vehicle will exit the parking lot via Terrace Place.
Please note that participants must have a Vanderbilt ID to pick up an item. If you would like to pick up multiple items for friends, neighbors or colleagues, a separate Vanderbilt ID is required for each turkey, tofurky or cutting board you are picking up at Turkey Toss.
For those who use public transportation, walk or bike to work, a pedestrian line will be available in Lot 5A. Pedestrians also must show a Vanderbilt ID to receive an item.
All Turkey Toss participants must adhere to COVID-19 guidelines.
Unclaimed turkeys and tofurkeys will be donated directly to Second Harvest Food Bank of Middle Tennessee.
Turkey Toss is open to all Vanderbilt University faculty, staff and postdocs. Vanderbilt University Medical Center employees should contact VUMC Human Resources for details about the VUMC Turkey Toss event.
For questions about the Dec. 17 event, email ele@vanderbilt.edu and put Turkey Toss in the subject line.