Karan Jani, research assistant professor of physics and astronomy, co-chaired the first international workshop focused on gravitational wave detection on the moon. The workshop builds on Jani's recent studies that make the case for building a crewed, lunar-based observatory. 
"We are at the dawn of a new space age, with the moon at the center of our campaign for the next several years," Jani said. "This workshop drew a broad consensus that fundamental physics and astronomy have immense potential on the moon." 
The workshop convened more than 350 leading experts from the fields of GW science, planetary science and lunar exploration to discuss the geophysical properties of the moon and opportunities for this type of observation with key technologies that are already at an advanced stage of development. Participants were in agreement that lunar GW detection could become a realistic space science mission with international cooperation.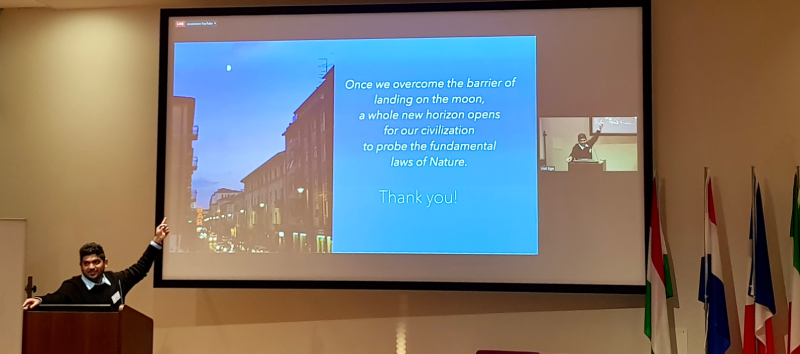 Opportunities for breakthrough science exist through partnerships with other future detectors, like the joint European Space Agency and NASA space mission Laser Interferometer Space Antenna, and with proposed terrestrial GW detectors the Einstein Telescope and the Cosmic Explorer. Discussions highlighted the exciting possibility that a GW detector on the moon could provide a more complete understanding of where gravitational waves come from, and the orbit of the moon around Earth would significantly increase the ability to triangulate the position of those sources.  
"The lunar GW detectors can probe the most important questions about our universe, from the nature of dark energy to the birth of the first stars," Jani said. "Many of the required technologies are already being developed by space agencies and major private companies. It's only a matter of time before we have our graduate students taking shifts on the moon!"  
The workshop was well attended, reflecting worldwide interest in GW science and lunar exploration, said Jan Harms, professor at the Gran Sasso Science Institute. "We now need to work hard to seize the opportunities given to us to realize a first lunar GW detector. Turning our moon into a resonant antenna for messages from the universe would be a historical achievement." 
And officials at high-level funding agencies were attentive, added Stavros Katsanevas, European Gravitational Observatory director, which is "a very good omen for the development of this emerging field. 
"We were all impressed by the quality of the presentations, key elements of which were the interdisciplinarity between GW science and geoscience, the complementarity of the proposed instrumentation guaranteeing the detailed understanding of lunar vibrations."  
The workshop took place on Oct. 14 and 15 and was hosted by the European Gravitational Observatory near Pisa, Italy. Jani was joined by researchers from EGO and Gran Sasso Science Institute. The workshop was supported by the AHEAD 2020 project, funded from the European Union's Horizon 2020 research and innovation program under grant agreement 871158.