Media Inquiries
Latest Stories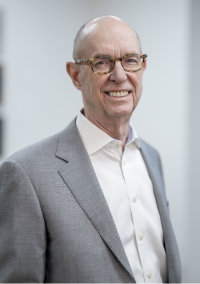 Lawrence J. Marnett, who has served as dean of Vanderbilt University's School of Medicine Basic Sciences since its creation in 2016 and has led its dramatic ascension as one of the nation's top biomedical research and doctoral programs, will step down as dean effective June 30, 2022.
Marnett, Mary Geddes Stahlman Professor of Cancer Research, University Professor of Biochemistry and Chemistry and professor of pharmacology, will return to the faculty in 2023 after taking a sabbatical.
Marnett was appointed dean at the time of the legal separation of the university and Vanderbilt University Medical Center in 2016. Under Marnett's leadership, the university made the bold move of creating a new "home" and funding model for the departments and centers that aligned with its mission of research and graduate training and provided stability and cutting-edge opportunities for growth that are unique among peer institutions.
"Larry Marnett has provided strong leadership in many roles throughout his remarkable career, but building Basic Sciences—an academic unit that did not previously exist at Vanderbilt and doesn't exist anywhere else—has been his most complex and challenging assignment yet," Chancellor Daniel Diermeier said. "He has positioned Vanderbilt to become the best place in the world to pursue cutting-edge biomedical research. We are grateful for his achievements as leader, scholar, teacher and mentor."
For the past five years, Marnett has expertly led the Departments of Biochemistry, Cell and Developmental Biology, Molecular Physiology and Biophysics, and Pharmacology, along with their associated centers, institutes and programs. More than 1,000 faculty, students, fellows and staff are part of the vibrant Basic Sciences community.
"Larry's dedication to graduate and postdoctoral training, his commitment to diversity and inclusion, his advocacy for the university's heavy investments in research infrastructure and his many other contributions have laid the foundation for future success," said C. Cybele Raver, provost and vice chancellor for academic affairs. "I am grateful to him for his firm and determined leadership during an incredibly challenging five years and look forward to continuing to partner and collaborate with him in the future."
The Basic Sciences have been highly successful in attracting external funding to support research and training under Marnett's leadership, with four of its departments ranked in the top 10 nationally for National Institutes of Health funding: Biochemistry is No. 1, Cell Biology is No. 2, Molecular Physiology and Biophysics are ranked No. 3 and Pharmacology is No. 7.
Since 2019, the Basic Sciences have established the Dean's Faculty Fellows program to recognize faculty in the early stages of their career; secured the endowment of the Stanley Cohen Innovation Fund to support innovative, early-phase research projects that are high risk yet potentially high reward and the of the Warren Center for Neuroscience Drug Discovery. Marnett also initiated the creative restructuring of the first-year curriculum of the Interdisciplinary Graduate Program and the development of an advisory council on mental health and wellness.
Marnett had a constant and energetic focus on recruiting a diverse faculty and student body. Vanderbilt is now one of the premier institutions in the nation for training doctoral students in the biomedical sciences from underrepresented backgrounds. Under his tenure, 60 percent of faculty recruits were women or from underrepresented backgrounds.
"I am grateful for all of my opportunities at Vanderbilt, including helping build the Vanderbilt Ingram Cancer Center, the Vanderbilt Institute for Chemical Biology and now the School of Medicine Basic Sciences," Marnett said. "In each experience, I have had the resources and the mandate to invest in people and programs to make the institution better. Without a doubt, spearheading the creation of Basic Sciences has been the most fun and the most impactful. It is not often that one has the opportunity to do something truly unique in an academic institution, and Vanderbilt enabled me to do just that.
"I now look forward to returning to my laboratory to pursue exciting discoveries related to lipid mediators of inflammation and cancer."
Marnett joined the faculty in 1989 and served as associate director of basic research at the Vanderbilt-Ingram Cancer Center from 1993 to 2002. He then became director of the Vanderbilt Institute of Chemical Biology. In 2014, he was named associate vice chancellor for research and senior associate dean for biomedical sciences for VUMC.
"Larry Marnett has been a terrific partner and colleague in efforts to strengthen cross-disciplinary collaborations across the university and VUMC," said Jeff Balser, dean of the School of Medicine and president and CEO of VUMC. I am grateful for Larry's commitment to the research that lays the foundation for our medical advances and also for his dedication to training our future generations of scientists in medicine. His impact at Vanderbilt will be felt for many years to come."
One of the key characteristics that distinguishes the Basic Sciences at Vanderbilt from peer institutions is its deep connections and collaborations across disciplines. Marnett has been committed to fostering and building trans-institutional science collaborations at Vanderbilt through his work with the Vanderbilt Ingram Cancer Center, the Vanderbilt Institute for Chemical Biology, and through multiple trans-institutional initiatives under the university's Academic Strategic Plan.
"Larry has been a transformational leader, driving our trans-institutional research and teaching missions," said John Geer, Ginny and Conner Searcy Dean of the College of Arts and Sciences. "I have been very lucky to work with Larry, collaborating on countless fronts. We have, for example, worked closely to recruit and to retain faculty to Vanderbilt who are attracted by our trans-institutional culture."
Marnett has also been a constant champion of elevating awareness of the impact of the Basic Sciences among peers and on a broader stage. These efforts have included the Lab-to-Table Conversation Series, which connects key faculty and the latest research on some of society's most pressing public health issues, and the creation of Vestigo, a periodical with an in-depth view of research, trainee accomplishments and faculty successes.
Marnett is the director of the A.B. Hancock Jr. Memorial Laboratory for Cancer Research, which focuses on the causes of cancer and on the development of novel agents for cancer prevention and treatment. His research program explores the role of the enzyme cyclooxygenase-2 in cancer and inflammation as well as the contribution of normal metabolism to the generation of DNA damage and mutation.
He has published more than 500 research articles, which have received more than 36,000 citations, and has led the training of 49 postdoctoral scholars, 47 doctoral students and nine master's students. He is also a gifted teacher, recognized multiple times with Outstanding Teaching Awards from medical students and recognized as a member of the Vanderbilt Academy of Excellence in Teaching. He is a Fellow of the American Chemical Society, the American Association for the Advancement of Science and the Society for Redox Biology and Medicine and has been supported by an Outstanding Investigator grant and a MERIT award from the National Cancer Institute.
The university and medical center will partner on the national search to identify Marnett's successor.
"Thanks largely to Larry Marnett, Vanderbilt and VUMC have strategically and thoughtfully put in place the infrastructure and investments to clear the way for truly transformative collaboration and breakthroughs in the biomedical sciences," Raver said. "We will be recruiting leadership and faculty who are ready to chart the course and make significant impact in this incredibly exciting and promising field."