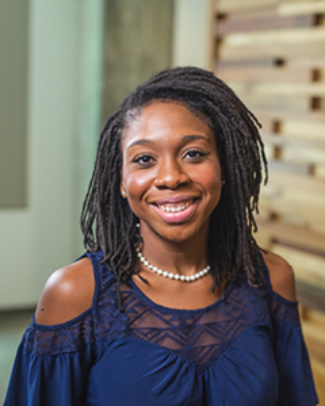 Charreau Bell, a senior data scientist at the Vanderbilt Data Science Institute and research assistant professor of computer science, has been named the faculty director of the undergraduate data science minor. Bell's appointment was announced today by Vanessa Beasley, vice provost for academic affairs and dean of residential faculty.
"Dr. Bell is a talented data scientist and machine learning expert as well as an extraordinary advocate of using data science to improve the human condition," Beasley said. "I welcome her into this role as we support students' desire to learn and make an impact in these areas in alignment with the highest ideals of Vanderbilt's academic mission."
Bell is a Triple Dore, earning bachelor's, master's and doctoral degrees in electrical engineering at Vanderbilt. In her current role, she leads highly interdisciplinary teams of faculty, staff and students in answering research questions by leveraging data science tools and approaches. Her work focuses on training and empowering researchers and students across all disciplines in data science methods and facilitating scientific discovery and innovation across the university.
Her past data science teams have used deep learning and machine learning to streamline research processes in law, archaeology, education and history; for discovery of new insights in archaeology, public policy and the social good; and for using prediction in education and public works. Her Ph.D. focused on creating new algorithms for understanding the resting state behavior of the brain using functional magnetic resonance imaging.
As director of the data science minor, Bell will serve as chief administrator of the program and lead a team dedicated to ensuring the programmatic and curricular success of the minor.
"Vanderbilt continues to be a paragon of scientific achievement and academic excellence with world-class researchers, and I'm honored to contribute to its legacy," Bell said. "I'm excited to encourage students toward a culture of data literacy across all academic disciplines, and I am looking forward to creating real-world opportunities with faculty researchers to engage students in preparation for the challenges of our future."
The interdisciplinary data science minor is shared by all four undergraduate schools and colleges, with undergraduate students able to declare the minor beginning in spring 2021. The minor can be paired with any major and allows students to learn various data analysis techniques, including machine learning, data visualization, scientific computing, programming and data management.
Interested students should contact their academic adviser for more information about declaring the data science minor. Learn more about the program at vanderbilt.edu/undergrad-datascience.