Pam Jones, BSN'81, MSN'92, DNP'13, has been appointed associate vice chancellor for health and wellness, Vice Chancellor for Administration Eric Kopstain announced today. 
In her new role, Jones will oversee all aspects of the university's strategic health and wellness priorities, including the current response to the COVID-19 pandemic and collaborative health and wellness efforts with Vanderbilt University Medical Center.  
"Pam was instrumental in the development and continued leadership of our Return to Campus Plan," Kopstain said. "We are thrilled to formalize her role in our ongoing COVID-19 response efforts, and we look forward to her leadership in new initiatives regarding health and wellness. She has been, and will continue to be, key to the interface with our highly valued VUMC colleagues. Pam's background makes her uniquely qualified to manage these critically important responsibilities."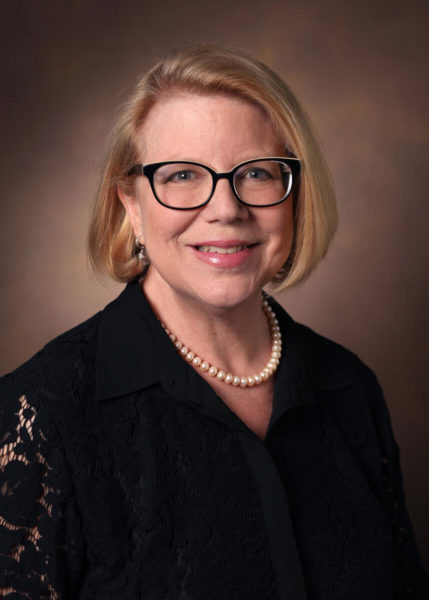 Jones will step down from her position as the School of Nursing's senior associate dean for clinical and community partnerships, which she has held since 2014, effective immediately, with a phased transition plan. She will continue her teaching role and involvement with VUSN's doctor of nursing practice program.  
She has served as the co-chair of the university's Public Health Central Command Center since the pandemic began in the spring of 2020. Her scholarly expertise and clinical experience informed the careful orchestration of all health processes—including managing patient profiles, contact tracing, isolation planning, quarantine notifications, cluster analysis, data management and psychological assistance for all on-campus students, faculty and staff. 
"Pam has been an excellent collaborator in the work we have been doing, especially with our students, during this challenging time in their academic careers," said G.L. Black, vice provost for student affairs and dean of students. "I am excited to continue to expand our partnership when looking broadly at our health and wellness efforts across the university, and, in particular, I am looking forward to having her as a key thought partner to continue innovating within the Student Care Network." 
As the first recipient of the Chancellor's Award for University Service this year, Jones was recognized for her assistance in creating a state-of the-art emergency response model that can be employed at Vanderbilt and beyond in unforeseen challenging times to come. 
"I am excited to expand my areas of focus in a more formal way and to continue to work on this critical area for the university," Jones said. "I look forward to continued collaborations with university leadership, my VUSN and campus colleagues, and our VUMC partners on proactive approaches to our institutional health and wellness efforts." 
As senior associate dean, Jones directed VUSN's working relationship with the medical center, led community outreach and managed the school's faculty practice arm, which provides advanced practice leadership and care at VUMC nurse-managed clinics and programs. She also served as expert and liaison to VUMC in the development and mentorship of nurse leaders and on special initiatives. She will continue to collaborate with VUMC on population health initiatives, which will provide university leaders with ongoing strategic and operational insight into the most important health and wellness issues at Vanderbilt and across Nashville.  
"Pam has been an invaluable member of the School of Nursing leadership team, and she will be missed," said Pamela R. Jeffries, dean of VUSN. "We are so proud that a nurse leader from VUSN was prepared to step up to this role and direct Vanderbilt's wellness and health initiatives. She's the ideal person to lead the university's commitment to the holistic health and well-being of its community." 
Before her VUSN senior associate dean role, Jones was chief nursing officer for Vanderbilt University Adult Hospital. She also served in several leadership positions for other area hospitals in Nashville, including chief executive officer for the Baptist Women's Pavilion Hospital and chief operating officer for Tennessee Christian Medical Center. She earned her bachelor's and master's degrees in nursing and her doctor of nursing practice degree from VUSN.