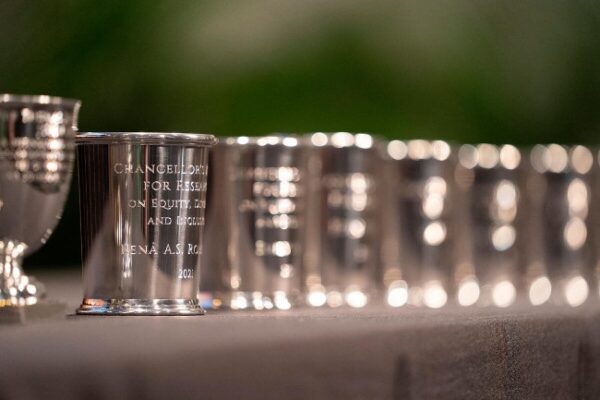 Chancellor Daniel Diermeier, Provost and Vice Chancellor for Academic Affairs Cybele Raver and Faculty Senate Chair Mark Magnuson, Louise B. McGavock Professor of Molecular Physiology and Biophysics, presented awards to 13 faculty members during the Fall Faculty Assembly on Aug. 26.
The awards recognize teaching, research, service and commitment to diversity, and recipients are honored for their contributions and commitment to the university.
Fall 2021 faculty award recipients
Brandon Byrd, Chancellor's Award for Research
Andrew Coe, Chancellor's Award for Research
Sara Mayeux, Chancellor's Award for Research
Justus Ndukaife, Chancellor's Award for Research
John Wilson, Manuel Ascano, Mark Kelley, Douglas Johnson and Justin Balko, Chancellor's Award for Research
Emily Lordi, Chancellor's Award for Research in Equity, Diversity and Inclusion
Renã A.S. Robinson, Chancellor's Award for Research in Equity, Diversity and Inclusion
John McLean, Thomas Jefferson Award
Gordon Logan, Earl Sutherland Prize for Achievement in Research
The Chancellor's Award for Research recognizes excellence in works published or presented in the last three calendar years. Each recipient is honored with a cash prize of $2,000 and an engraved pewter julep cup.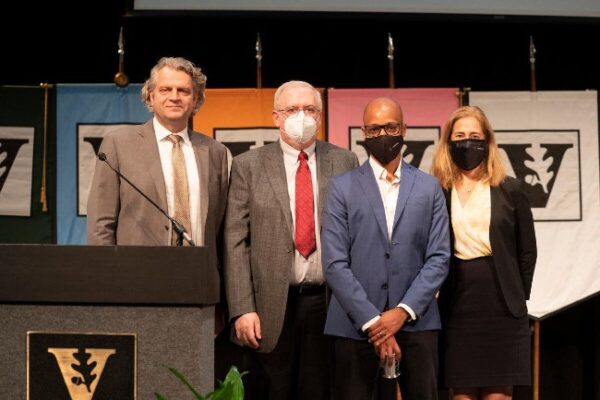 Brandon Byrd, associate professor of history, was honored for his book The Black Republic: African Americans and the Fate of Haiti, published in 2019. The Black Republic was awarded honorable mention for the Isis Duarte Book Prize from the Latin American Studies Association and was a finalist for the Pauli Murray Book Prize in Black Intellectual History, granted by the African American Intellectual History Society. "Brandon's work is an elegant meditation on the importance of Haiti to African American politicians and intellectuals from Reconstruction to the U.S. occupation of the country in the early 1900s," Diermeier said.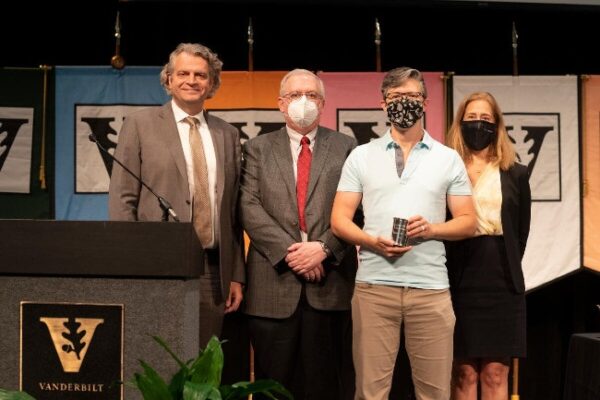 Andrew Coe, assistant professor of political science, was honored for his article "Why Arms Control Is So Rare," published in the American Political Science Review. The paper garnered widespread recognition, including by the International Security Section of the American Political Science Association, which deemed it the "Outstanding International Security Article of the Year." His research has led to an important advance in scholars' understanding of arms races and the costs of militarization. "Andrew's article provides a compelling new explanation for why states spend immense sums on arming themselves rather than making mutual agreements to control this spending," Diermeier said.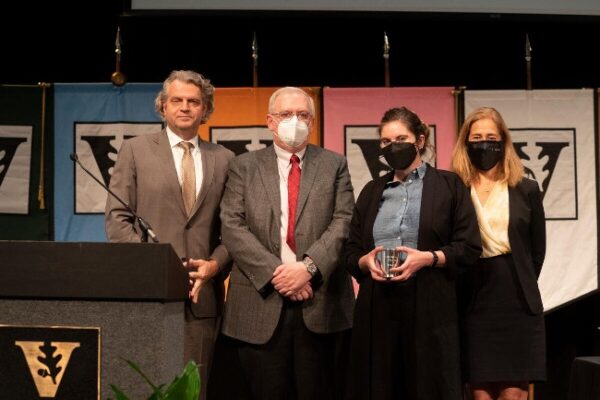 Sara Mayeux, associate professor of law, was honored for her book Free Justice: A History of the Public Defender in Twentieth Century America, which chronicles the contentious history of public defenders from the Progressive Era to the Cold War. She traces the internal divisions within the legal profession itself about how to provide counsel for criminal defendants—a division that helped create and fuel some of the inequalities still present today in the United States' criminal justice system. "Sara's book makes significant contributions to U.S. legal history and beyond, and we are proud to recognize her work today," Diermeier said.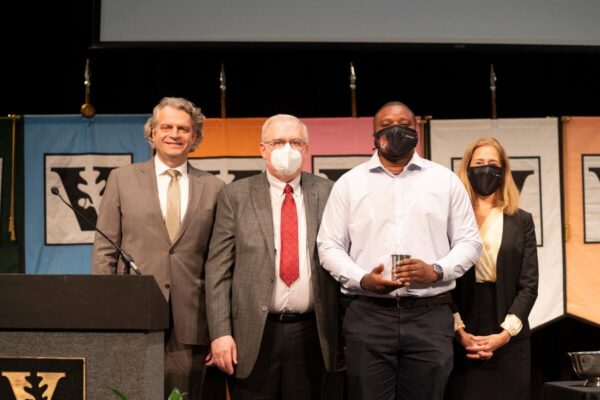 Justus Ndukaife, assistant professor of electrical engineering, was honored for his distinguished article in Nature Nanotechnology that describes a new type of optical nanotweezers he developed that can trap and manipulate objects as small as proteins and viruses. The noninvasive technology has broad implications for the study and early detection of cancer, Alzheimer's and other diseases. "Justus has received widespread recognition and acclaim from his peers, including the recent designation as a global 'Rising Star of Light' by the academic journal Light: Science and Applications," Diermeier said.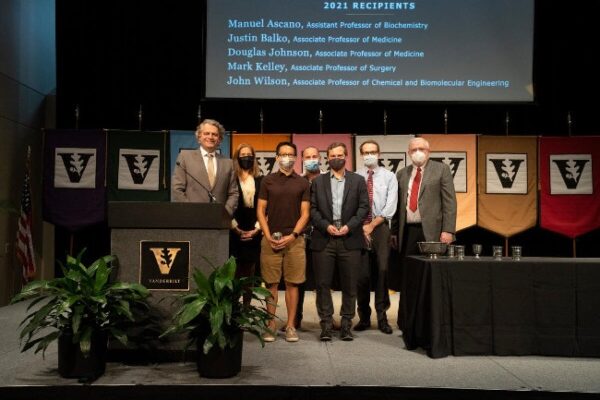 John Wilson, associate professor of chemical and bimolecular engineering; Manuel Ascano assistant professor of biochemistry; Mark Kelley, associate professor of surgery; Douglas Johnson, associate professor of medicine, and Justin Balko, associate professor of medicine, were honored for their collaborative article about cancer immunotherapy in Nature Nanotechnology. They wrote about their development of a nanoparticle to find tumors and deliver a specific type of molecule called cGAMP that bodies produce naturally to fight off cancer. "This team made a major breakthrough in the fight against cancer," Diermeier said. "Their groundbreaking work focused on melanoma but could impact the treatment of many cancers, including neuroblastoma, lung cancer and beyond."
Two faculty members received the Chancellor's Award for Research on Equity, Diversity and Inclusion, which recognizes excellence in research, scholarship or creative expression that specifically advances our understanding of equity, diversity and inclusion.
The awards, given for works presented or published in the preceding three calendar years, consist of a $2,000 prize and an engraved pewter julep cup.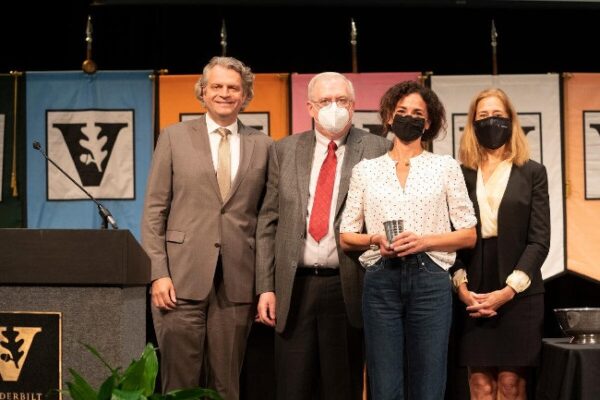 Emily Lordi, professor of English, was honored for her book The Meaning of Soul: Black Music and Resilience since the 1960s, in which she proposes a new understanding of the famously elusive concept of the meaning of soul in Black music. "Emily offers a vision of soul that foregrounds the intricacies of musical craft, the complex personal and social meanings of the music, and the leading role played by Black women in this musical-intellectual tradition," Diermeier said. "Her research is advancing the work of equity, diversity and inclusion not just for academic audiences but for a broader public."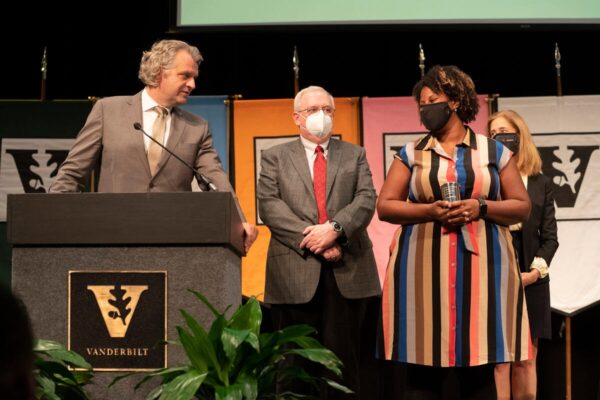 Renã A.S. Robinson, associate professor of chemistry, was honored for her article in Alzheimer's & Dementia: Translational Research & Clinical Interventions. She was part of an interdisciplinary team that collected interviews from African Americans who took part in Alzheimer's research to develop positive messaging materials to encourage participation. "Renã has established herself as an emerging leader in addressing health disparities, as she immediately recognized the lack of biospecimens available from African American adults in Alzheimer's disease research centers nationally," Diermeier said. "She helped create a framework that will be broadly used and accessible by others to promote research participation in underserved communities."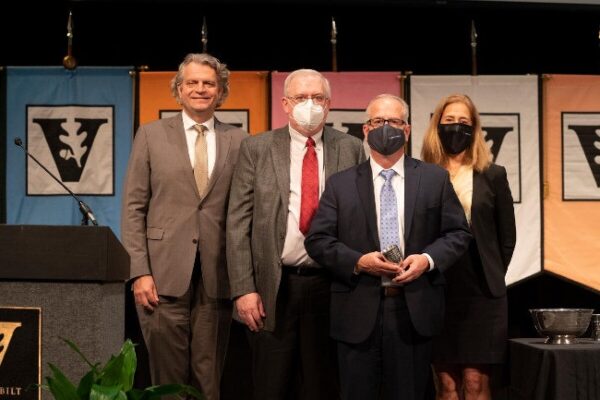 The Thomas Jefferson Award for distinguished service to the university is given annually to a faculty member who has shown service to Vanderbilt through contributions in the university's councils and governments. The award consists of a cash prize of $5,000 and an engraved pewter goblet. This year's honoree is John McLean, Stevenson Professor of Chemistry. He served as chair of the Faculty Senate for the 2019–20 academic year. "John is known for his keen ability to build consensus and get things done, while always keeping the greater good of the community in mind," Diermeier said. "The Consultative Committee commended him for his calm and effective leadership of the Faculty Senate during one of the most difficult chapters the university has ever faced."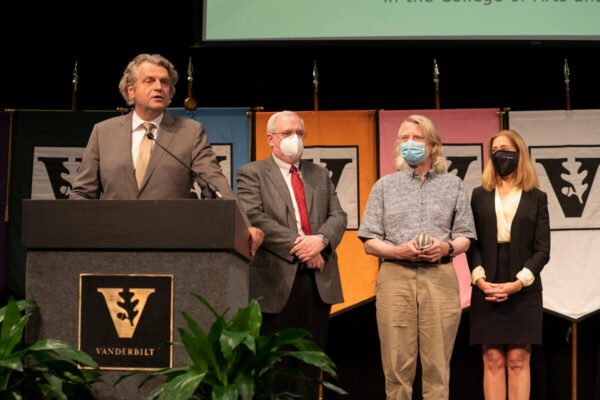 The Earl Sutherland Prize for Achievement in Research is Vanderbilt's most prestigious faculty honor for achievement in research. This award honors a faculty member who has garnered significant critical recognition on a national or global scale. The award is accompanied by a cash prize of $10,000 and an engraved pewter julep cup. The winner's name is added to a silver bowl following a famous design by Paul Revere.
This year's honoree is Gordon Logan, Centennial Professor of Psychology in the College of Arts and Science. Logan has published more than 240 peer-reviewed articles, including 13 papers in Psychological Review, one of psychology's premier journals. He has also published more than 70 articles in the highly impactful Journal of Experimental Psychology group. His work has garnered more than 48,000 citations, and his accomplishments have received the highest recognition possible within science, culminating in his election to the National Academy of Science last year.
"As one of the most productive and influential cognitive scientists of his era, Gordon's empirical and theoretical work has spanned all of the major paradigms of modern cognitive psychology—including attention, memory, executive control, response inhibition, spatial cognition and beyond," Diermeier said. "For example, decades ago he established what is known as the "stop-signal paradigm," which generated a quantitative measure of impulse control. This work continues to serve as the most significant framework for studying response inhibition. It has also had important clinical implications, particularly in research related to children with ADHD."
Members of the faculty with 25 consecutive years of full-time service also were recognized by Diermeier. They will receive a chair with the Vanderbilt logo and a brass plate engraved with their name.
They are:
Theodore Bapty
William Booth
Steven Brown
Anthony Cmelak
William Cooper
Ariel Deutch
Brian Donahue
Jane Easdown
Dale Farran
Elliott Fielstein
Edward Fischer
James Gainer
Ralf Habermann
Daniel Himes
Alp Ikizler
Waleed Irani
Akos Ledeczi
Viki Matson
Jami Miller
Anthere Nzabatsinda
Ray Paschall
Geraldine Reeves
Albert Reynolds
Melissa Rose
Sandra Rosenthal
Ronald Schrimpf
Jin-Hui Shen
Paul St. Jacques
Bradley Stancombe
Mary Washington
Dechao Zheng
On its website, the Office of Faculty Affairs has posted brief biographies of faculty members honored for 25 years of continuous service.