Media Inquiries
Latest Stories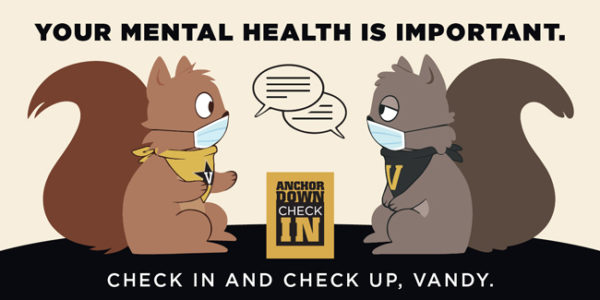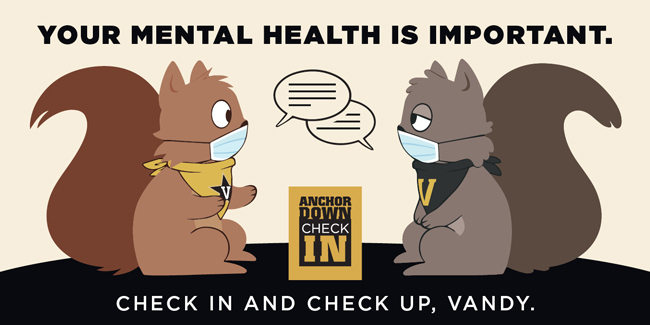 Caring for mental wellness affects every part of a person's life by reducing stress and anxiety, increasing resilience, building self-awareness and feeling better emotionally and physically. At Vanderbilt, there are robust resources to support undergraduate, graduate and professional students in multiple ways through the Student Care Network, the Office of Student Care Coordination, The Center for Student Wellbeing and the University Counseling Center.
FIRST STOP FOR WELLNESS HELP 
The Office of Student Care Coordination is the central and first point of contact for students to help identify their needs and determine the most appropriate resources in Vanderbilt's Student Care Network and in the Nashville community to address their concerns.  
Student care coordinators work collaboratively with students to develop a student success plan, share education about and facilitate connections to appropriate on and off-campus resources, and provide accountability through supportive follow-up meetings. 
Connect with the Office of Student Care Coordination here. 
STUDENT CARE NETWORK
Through the Student Care Network, students can find wellness resources in a diversity of areas such as: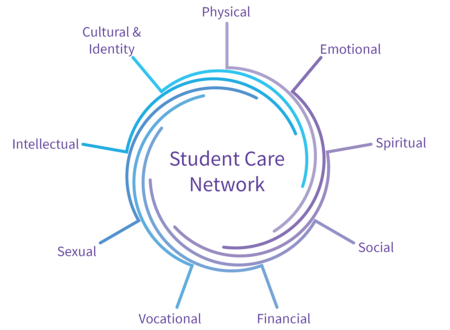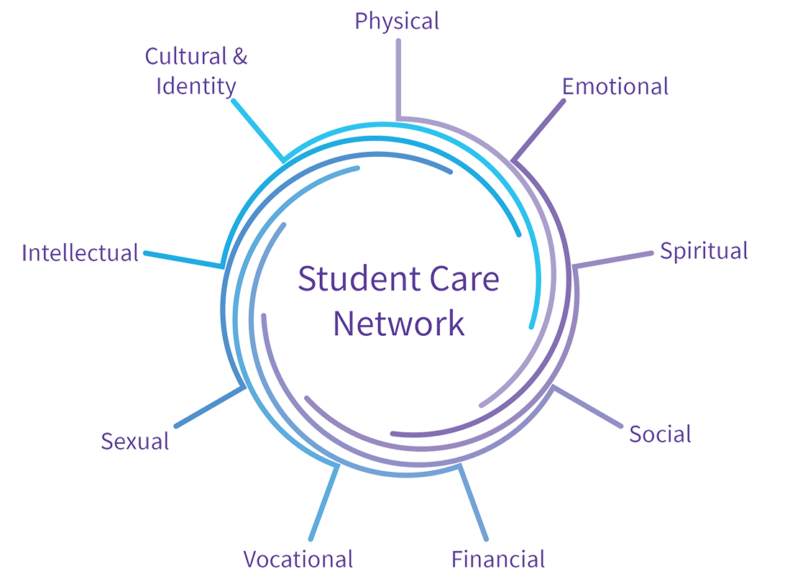 SATELLITE SERVICES 
Satellite services are offered by a number of Student Care Network and other offices in locations across the university's campus. These services are intended to provide quick and convenient access to resources to consult on a current concern, explore support options and establish connections with staff members.  
Click here to view which Satellite Services are offered and when.  
UNIVERSITY COUNSELING CENTER 
As a key component of Vanderbilt's Student Care Network, the University Counseling Center provides mental health assessment, support and treatment for students enrolled at the university, including undergraduate, graduate and professional students. Drop-in consultations are available as a quick way to connect with a therapist. 
Workshops 
The University Counseling Center is offering a series of workshops in areas such as: 
Clinical hypnosis for academic anxiety

 

Developing self-compassion

 

Psychology of peak performance

 

Surviving and thriving with ADHD and other executive function issues

 

Asian/Asian-American student support workshop

Black Girl Magic
Learn more about these and other workshops through the UCC here. 
MORE WAYS TO SUPPORT MENTAL WELLNESS 
Here are more ways to support your mental wellness: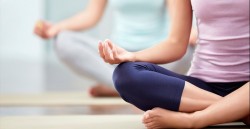 The Center for Student Wellbeing holds daily well-being practices, including:  
in-person and Zoom meditation

 

yoga

 

recovery support gatherings




drop-in well-being coaching

 

drop-in academic coaching



Click here to learn more about weekly well-being practices starting Sept. 13. 
Have a few minutes between classes or during a break? Feeling stressed? Mindful meditation tracks help create a moment of calm awareness with the help of licensed therapists. 
 Click here to listen to a series of meditation tracks. 
Make sleep a priority and start a sleep routine
Turn off your blue screen at least an hour before bedtime. Avoid caffeine later in the day. Set a bedtime reminder on your phone. Before going to sleep, try deep breathing, mindful meditation or journaling. 
Journal your thoughts
There are benefits of writing down your thoughts even just one time, or you can make it a practice. Review your entries to observe growth and places for support. If you're not sure how to get started, you can look up journal prompts. 
Create healthy eating habits
Some tips for healthy eating habits include keeping a food journal. Plan ahead with grocery shopping. Review what Campus Dining has to offer. Eat breakfast. Visit a nutritionist at the Student Health Center to find an eating plan that might work best for you. 
Take control of your physical wellness
If you develop any new signs or symptoms of illness or infection, consult with a provider or visit the Vanderbilt Student Health Center.  
Download Headspace
Vanderbilt is offering free access to Headspace for students. It is a research-backed digital tool for mindful living with more than 1,200 hours of themed meditations, sleep content, mindful movement exercises and focus music. Headspace has been shown to reduce stress, improve focus, increase resilience and happiness.
Enroll in Vanderbilt's Headspace program here.

MORE RESOURCES: