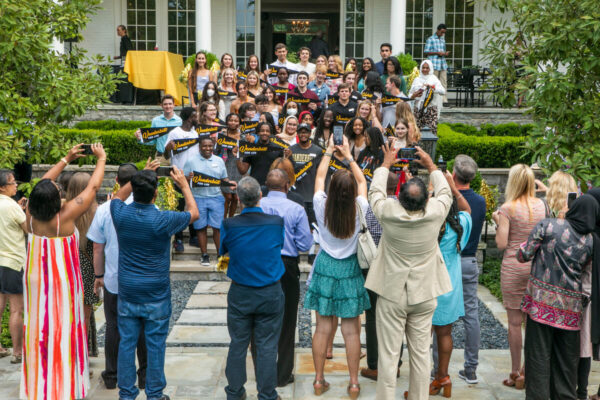 Nearly 50 Commodore Launch events were held across the U.S. this summer to welcome the newest members of the Vanderbilt community. Incoming and current students and their families, along with alumni and university leaders, joined celebrations in cities including New York, Chicago, Houston and Seattle. A special welcome message was also sent to incoming international students to ease their transition to campus, from Ferris Li, class of 2024, and Young Alumni Leader Somto Dimobi, BE'19.
Hosted by Vanderbilt alumni and parents, these festive gatherings (previously known as Summer Send-off), introduced incoming students to the university's supportive and collaborative community. Alumni like Vanderbilt trustee Kito Huggins, BS'96, JD'99, who spoke at the New York event, shared with attendees highlights of their personal Vanderbilt journey, exemplifying what it means to be "Vanderbilt for Life."
Huggins illustrated through his own story the myriad opportunities for engagement available to students, families and alumni. He was part of the third class of Posse Foundation scholars, served as student body president and was a member of several student groups, including the Black Law Students Association. He now is one of the university's most dedicated supporters—he has volunteered with the Association of Vanderbilt Black Alumni, Reunion and more, and he serves on the Vanderbilt Board of Trust.
The Commodore Launch events also included several Vanderbilt leaders such as Chancellor Daniel Diermeier and C. Cybele Raver, provost and vice chancellor for academic affairs, who greeted families and described what students can expect from their time at the university.
"When you arrive at Vanderbilt this fall, you will be embarking on a lifelong journey of discovery, growth and genuine belonging," Diermeier told incoming students at the New York Commodore Launch event. "You will be joining a community that is dedicated, above all, to helping you realize and achieve your full potential. Our community has been behind our tradition of excellence for nearly 150 years, and it is paving the way to an increasingly bright future. And as you may sense today—and will soon come to know more and more—it will be with you for life."
For more information on alumni engagement opportunities visit vuconnect.com. Parents and families can stay connected by visiting vu.edu/families.