Despite overwhelming evidence showing the safety and effectiveness of the COVID-19 vaccine, some Americans are still hesitant to get it. National and local leaders who played key roles in the original rollout and current support of the COVID-19 vaccine came together for a panel hosted by The Vanderbilt Project on Unity & American Democracy and Vanderbilt University Medical Center , "Vaccine Hesitancy: The Politics of Public Health in Tennessee," on Aug. 18.
MISINFORMATION AS AN "INFO-DEMIC"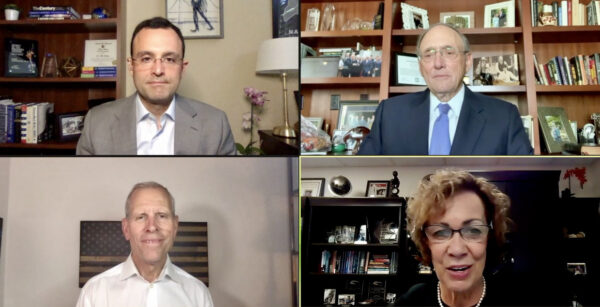 One of the main issues fueling the COVID-19 debate is misinformation about the virus, vaccines and the impact of wearing masks, something moderator and Vanderbilt University School of Nursing dean Pamela R. Jeffries called an "info-demic."
Members of the panel, representing different political perspectives, said that in today's polarized climate, political divisions are unavoidable, and each offered specific critiques of various policies and public pronouncements about the vaccine. But all the panelists agreed that the vaccines are safe and effective, and they encouraged all eligible Americans to be vaccinated.
Paul Mango, former deputy chief of staff at the U.S. Department of Health and Human Services, who served on President Donald Trump's coronavirus task force, noted that, in retrospect, the communications strategy around the vaccine rollout might have been more effective if information came from what he called the "physician channel" of the American Medical Association and American Academy of Pediatricians.
He also stressed that the stereotypical "flip flop" label doesn't work when it comes to a pandemic.
"I think sometimes the American people confuse new information with misinformation. And what I mean by that is what we knew about this virus in January or February of 2020 is radically different than what we know today," Mango said.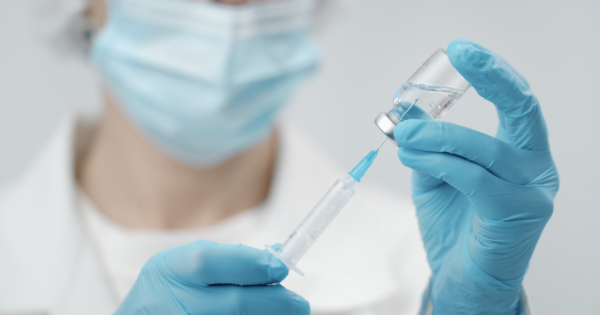 VACCINE SAFETY
Mango and former Republican U.S. Congressman Phil Roe, a practicing physician of 31 years, who served in the House of Representatives on behalf of Tennessee's 1st District from 2009 to 2021, stressed the extraordinary measures taken to ensure the safety and efficacy of COVID-19 vaccines. These measures included the unusually large number of 40,000 study volunteers when vaccine trials normally have 20,000; the White House creating pathways for multiple trials to be held simultaneously; and the production of vaccines while the trials were taking place to ensure a rapid rollout.
"Every single one of us in the GOP Doctors Caucus volunteered to take the vaccine because we believe it's safe and effective. I know it is," Roe said. "After almost 40 years of practicing medicine, I've never operated on Republican or Democratic cancer. Like cancer, this virus is a nonpartisan infector of everybody."
UNCOMFORTABLE ASKING QUESTIONS
Even though the rapid development of the COVID-19 vaccine may be one of the Trump administration's greatest accomplishments through Operation Warp Speed, the Vanderbilt Poll and Pew Research Center show that a substantial number of Trump supporters resist vaccination.
The panelists agreed that because of the nation's partisan atmosphere, some Americans feel prevented from asking questions or seeking good information because of how politicized the whole issue has become, so they don't get vaccinated.
"We're not allowing people who may have legitimate concerns about the vaccine or masks to feel open to find a trusted source to ask questions," Mango said.
SAFE PLACE FOR ANSWERS
Dr. Alex Jahangir, executive medical director of the Center for Trauma, Burn and Emergency General Surgery at Vanderbilt University Medical Center, chair of the Metro Nashville Board of Health and head of the Metro Nashville Coronavirus Task Force, said one of the major keys to raising trust around the vaccine is finding the right influencers, who are preferably also medical experts, to share factual information.
In parts of Tennessee where vaccination rates are significantly lower than the national average, Jahangir believes people are not being encouraged to get vaccinated.
"In many small towns in Tennessee people rely on local leaders to help them with certain decisions and make them aware of their options, and we have not done as good a job as a state getting into these smaller neighborhoods and giving small communities the confidence to make a decision," Jahangir said. "That's why it's critical to find individuals like personal health care providers, local nurses, doctors, pastors and educated community leaders to relay that message."
Mango added that some Americans just don't trust the national government and may only rely on personal health care providers.
"A lot of folks in rural communities just fundamentally have a different view about the role of government in their lives," Mango said.
LOCAL SUCCESS THROUGH PARTNERSHIPS
Jahangir commended Nashville residents for getting vaccinated and said community partnerships and hundreds of vaccine pop-up events have made a dramatic difference.
"Nashville has about 55 percent vaccination rate for one dose and 49 percent fully vaccinated, which is in line with the national average," Jahangir said. "We partnered with local groups and faith-based organizations for more than 375 vaccine pop-up events so far and we have had success."
He said that to raise state vaccine numbers in rural areas around Tennessee, health departments should host similar pop-up events supported by leaders and health care providers these community members trust.
PRESIDENTIAL PLEA
Even though a lot of people have a fundamentally different view about the role of government in their lives, Mango called on President Biden and former President Trump to come together on the issue of COVID.
"I think President Biden should invite former President Trump to the White House and have an event where they can both say, listen, this is an American issue, let's put politics aside and let's get everyone vaccinated," Mango said.
COVID-19 INFORMATION RESOURCES:
Watch other discussions sponsored by The Vanderbilt Project on Unity & American Democracy here.