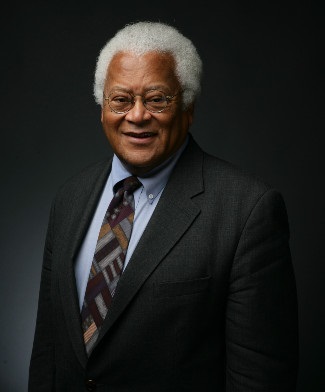 Vanderbilt Divinity School and the College of Arts and Science will honor one of the university's most revered alumni with the launch of the James Lawson Institute for the Research and Study of Nonviolent Movements at Vanderbilt University.
The institute, drawing on rich local history, will nurture evidence-based research and education rooted in nonviolent strategies, create and deepen partnerships in Nashville, and develop leaders equipped to contribute to a thriving society.
Launching this fall, the institute will host public workshops, seminars and learning opportunities to train the next generation of community organizers equipped with the skills to make meaningful, sustainable change.
"During these deeply polarizing times, the Rev. James Lawson continues to lead us on a path toward a more just world through an enduring message of compassion and redemption. As he has taught throughout his career, there can be no meaningful change and progress—no bridging the divide in our nation—without reconciliation and forgiveness," Chancellor Daniel Diermeier said. "I am excited to see the impact of this new institute on our community, especially the opportunities it will create for constructive discourse as well as the lessons in leadership it will provide our students."
The institute will further honor civil rights history in Nashville and nurture community partnerships that align with the institute's mission and values. The role of religion in this work—from Lawson's influences to the training of today's pastoral and lay leaders—will serve as a common thread in the pursuit of the institute's mission.
"I am so pleased that we will launch the James Lawson Institute for the Research and Study of Nonviolent Movements this fall," said Emilie Townes, dean of Vanderbilt Divinity School and distinguished professor of womanist ethics and society. "In doing so, we honor the witness of Rev. Lawson and recognize the enduring importance of seeking change through dogged determination and nonviolent witness."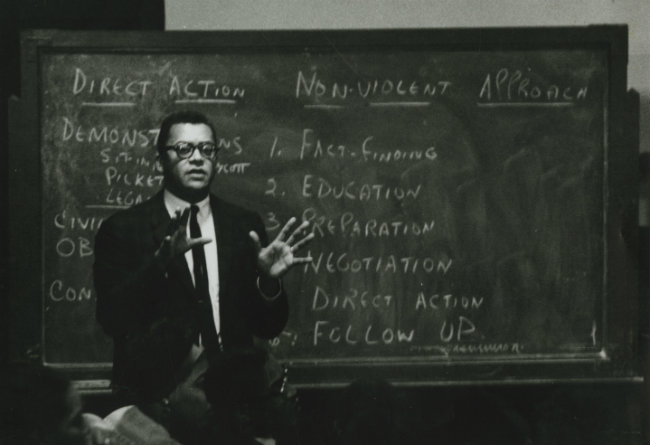 Lawson came to Nashville having studied Mahatma Gandhi's path of nonviolent change, or Sathyagraha, which translates as "holding firm to the truth." After his time in India, Lawson had a fateful meeting at Oberlin College with Dr. Martin Luther King Jr., who urged Lawson to participate in the urgent struggle in the American South. After coming to Vanderbilt Divinity School as a transfer student in 1958, Lawson led workshops focused on strategies for nonviolent discipline. From these workshops, Lawson and other students from Vanderbilt Divinity School, American Baptist College, Meharry Medical College, and Fisk and Tennessee State universities formed the Nashville Student Movement. Their sit-ins at segregated downtown lunch counters helped lay the foundation for Freedom Rides throughout the South.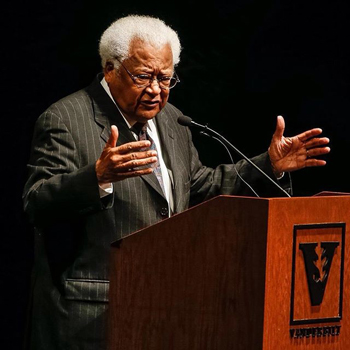 Lawson paid a heavy price for his activism, with Vanderbilt expelling him in 1960 for his role. The expulsion made national news, and the dean of the Divinity School and many faculty and students left the university in protest. Yet, living his convictions of peace and forgiveness, Lawson eventually reconciled with Vanderbilt and returned to teach as a Distinguished University Professor.
Lawson emphasized the vital importance of the Nashville community in launching the national civil rights movement when he spoke at the formal dedication of Rep. John Lewis Way and celebration of Lewis' legacy on July 17.
"The big task in the 21st century is that we move to let love be the power in which we organize every facet of society—every facet of society. I happen to think that that can be done," Lawson said. "Hatred can be replaced with love, and violence can be replaced with truth, with beauty, the spirit. I happen to think that can happen. We can beat our swords into ploughshares, our spears into pruning hooks. Nashville for me is a wonderful illustration of where this happened before and must continue to happen."
"The Lawson Institute will infuse our campus with energy and momentum as we pursue change that will make our society more equitable and unified in these divided and unequal times," said John Geer, Ginny and Conner Searcy Dean of the College of Arts and Science and professor of political science. "The opportunity to address and solve pressing social issues through this new institute will make it an undertaking worthy of James Lawson and his amazing legacy."
"The James Lawson Institute will foster research in the area of nonviolent movements' history and contemporary practices, and collaborate with program initiatives across the university, city of Nashville, state of Tennessee and the nation to offer opportunities for dialogue, intergenerational forums and training in nonviolence," said Phillis Isabella Sheppard, E. Rhodes and Leona B. Carpenter Associate Professor of Religion, Psychology and Culture and faculty director of the institute.
Through study of nonviolent strategies and leadership development, the institute will carry forward the work of Lawson and his collaborators in pursuit of three goals:
Advance research – Given the unique charge to provide scholarship at the intersection of faith-based inquiry, data-driven research and community building, a research fund for the institute will expand on specialist scholarship while stimulating collaborative research and programming.
Promote conversations – The institute will address a wide variety of ideas with the goal of fostering informed and civically engaged citizens in the 21st century and beyond. Toward this purpose, visiting scholars and thought leaders will advance dialogue and showcase new perspectives.
Train the next generation – The institute will support student scholarships and postdoctoral positions while also providing compelling avenues for undergraduates to participate. Using Lawson's teachings as a basis, those working within the institute will build a bridge between theory and practice, better preparing students to channel their passion into effective leadership with impact far beyond Vanderbilt.
Lawson, who has donated his papers to the Jean and Alexander Heard Libraries' Special Collections and University Archives, will play an integral role in the direction and growth of the institute as a primary adviser. Lawson's impact on campus is also felt through an endowed chair and a scholarship for undergraduate students established in his honor.
Partnership and programming opportunities will be announced at the launch event for the James Lawson Institute this fall.
Sign up now to stay connected and learn more about the Lawson Institute.