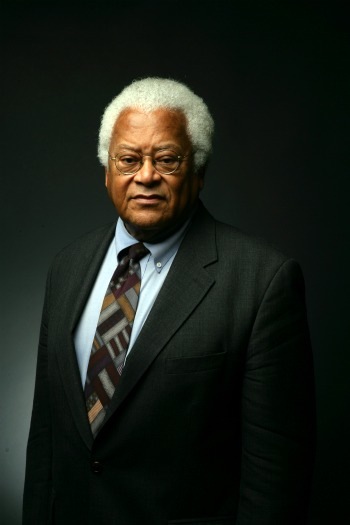 The Rev. James M. Lawson Jr., who has played key roles in the Civil Rights Movement and Vanderbilt University's history, has donated a significant portion of his papers to Vanderbilt Libraries' Special Collections.
"Vanderbilt is honored to serve as home to the archives of the Rev. James Lawson," said Connie Vinita Dowell, dean of libraries. "This important collection reflects his contributions to the Civil Rights Movement and his distinguished career as a prominent minister and teacher. The entirety of this collection will allow scholars to complete the portrait of his remarkable legacy."
Lawson, a Vanderbilt Distinguished Alumnus, taught on campus from 2006 to 2009 as a distinguished visiting professor. The James M. Lawson Jr. Chair at Vanderbilt was established in his honor in 2007. Watch a Vanderbilt video highlighting his achievements and return to campus as a visiting distinguished professor:
For decades I have expected the archival trail of my life's journey would be located at Vanderbilt," Lawson said. "[rquote]In spite of certain events of the 1960s, Vanderbilt's vision and I have never broken step.[/rquote] I am delighted that Vanderbilt can now announce that the Lawson Papers are there. In the light of the "Great Movement" that happened in Nashville, I hope that Vanderbilt will become a major center for the study of the non-violent direct action campaigns of 1953-1980 and the moral and social earthquake those campaigns caused."
Lawson joins several other important figures in the Civil Rights Movement who have donated or committed their historic papers to Vanderbilt Special Collections. The Rev. Kelly Miller Smith, assistant dean of Vanderbilt Divinity School from 1968 to 1984, helped organize the Nashville Christian Leadership Council and worked directly with Lawson. Another is John Seigenthaler, eminent journalist and founder of the First Amendment Center. He served as a special aide to Attorney General Robert Kennedy.
Others were Nelson Fuson, a Fisk professor who along with his wife, Marion, was a supporter and participant in the Nashville desegregation movement; Edwin Hamlett, an organizer of the Southern Student Organizing Committee; J. Herbert Gilmore, a minister who led desegregation of the First Methodist Church of Birmingham and participated in numerous civil rights activities; Salynn McCollum, a Peabody student who participated in civil rights protests and was on a Freedom Ride bus that was bombed; and Mary Anne Smith Downey, a Vanderbilt student who participated in desegregation efforts and became a women's rights and labor rights activist.
"The Reverend James Lawson has been an inspiration to generations of divinity students, faculty and alumni for putting the faith we study and share into action with imagination and integrity," said James Hudnut-Beumler, dean of Vanderbilt Divinity School and the Anne Potter Wilson Distinguished Professor of American Religious History. "[lquote]His commitment to non-violent social change and to the gospel ministry were not two different commitments, but a unified discipleship lived out in Nashville, Memphis and Los Angeles.[/lquote] It is wonderful that we will have his papers here close by to teach us that lesson again, just as he taught our students each time he served as a distinguished visiting professor."
Lawson, described by the Rev. Martin Luther King Jr. as "the leading nonviolence theorist in the world," studied the Gandhian movement in India as a young man. Lawson first met King in the spring of 1957 when Lawson was a student at the Oberlin Graduate School of Theology. King encouraged him to head south immediately to work in the struggle for civil rights.
Lawson applied as a transfer student from Oberlin to Vanderbilt Divinity School in 1958 and began his studies that fall. In addition, he helped organize sit-ins by African American students, which led to the end of racial segregation of lunch counters in downtown Nashville.
In 1960 the executive committee of the Vanderbilt Board of Trust voted to expel Lawson from the university for his role in the movement. The expulsion generated national headlines and prompted some Vanderbilt faculty members to resign in protest. A compromise was worked out later to allow Lawson to complete his degree from Vanderbilt, but he chose to transfer to Boston University.
After leaving Vanderbilt, Lawson served as director of nonviolent education for the Southern Christian Leadership Conference. He was very involved in other civil rights struggles, including the Birmingham Campaign of 1963 and the Mississippi Freedom Summer of 1964. He returned to Vanderbilt Divinity School on a sabbatical in 1970 and '71.
In 1974 Lawson became pastor of Holman United Methodist Church in Los Angeles, where he served until retirement in 1999. Lawson received the Vanderbilt Divinity School's first Distinguished Alumnus Award in 1996. In 2002 he was the recipient of the Walter R. Murray Jr. Distinguished Alumnus Award by the Association of Vanderbilt Black Alumni.
Lawson delivered the keynote address, "Where Do We Go From Here: Chaos or Community?" for Vanderbilt's 2006 Martin Luther King Jr. Commemorative Series. In addition, he took part in a symposium titled "Nonviolence and Social Change: The Legacy of James M. Lawson and His Contemporaries" in 2007.
During Lawson's recent visiting professorship, he was among the original Freedom Riders who retraced with Vanderbilt students, faculty and staff the 1961 Freedom Rides to Montgomery and Birmingham, Ala. Other participants included Congressman John Lewis, Diane Nash, Bernard Lafayette, the Rev. C.T. Vivian, Jim Zwerg and John Seigenthaler. Watch a Vanderbilt video of the trip.