By Jenna Somers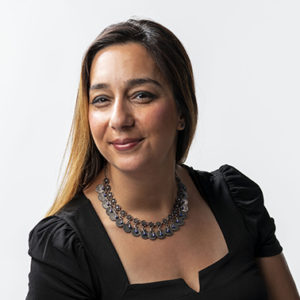 For the second year in a row, Professor of Biochemistry Houra Merrikh has been named a finalist for the 2021 Blavatnik National Awards for Young Scientists in the life sciences category for her discovery of a potential solution to prevent the evolution of antimicrobial resistance and, in some cases, even reverse existing resistance. Merrikh is one of 10 finalists in the life sciences category who were chosen from among 298 nominees at 157 research institutions across 38 states.
Established by the Blavatnik Family Foundation in 2007 and independently administered by the New York Academy of Sciences, the Blavatnik National Awards for Young Scientists is the world's largest unrestricted prize for early-career scientists and engineers and honors three awardees in the categories of life sciences, chemistry, and physical sciences and engineering with $250,000 and the title of the Blavatnik National Awards Laureate. The winners will be announced on July 20 and recognized at a ceremony at the American Museum of Natural History in New York on Sept. 28.
Antimicrobial resistance development is a global health crisis driven by evolution. It reduces the efficacy of antibiotics, forcing drug developers to constantly play defense against the evolutionary prowess of bacteria. Merrikh's lab focuses on suppressing these evolutionary mechanisms to prevent resistance development. Merrikh discovered that bacteria produce a protein that significantly promotes antimicrobial resistance development and has identified inhibitors of this protein's function that prevent the evolution of resistance or even reverse resistance in some cases. By stymying the evolutionary capability of bacteria, the drugs Merrikh is developing could finally allow scientists and doctors to play on offense in the fight against infectious diseases.
"It is an honor to be a two-time finalist for the Blavatnik National Award," Merrikh said. "Most importantly, this recognition puts the critical work of my lab on the map and will hopefully further accelerate our progress towards shifting the paradigm in infectious disease treatment."
The long-term goal of Merrikh and her team is to continue identifying evolvability factors—proteins that accelerate evolution in bacteria—and subsequently identify compounds that hinder these proteins' activity. Merrikh is focused on developing anti-evolution drugs that doctors could administer to patients along with antibiotics. The anti-evolutionary drugs would essentially disarm bacteria so that antibiotics could more successfully treat patients.
After personally presenting this idea in 2016 to Bill Gates and his team at the Bill and Melinda Gates Foundation, Merrikh received funding from the Gates Foundation—the first supporter of her idea—that has led to the discovery of various compounds that inhibit the key evolvability factor that has been the focus of her work.
By the end of this year, monetary prizes for the Blavatnik Award will reach $11.9 million in recognition of early-career researchers from 47 countries across six continents, a reflection of the Blavatnik Family Foundation's commitment to support scientific discoveries that leave a transformative impact on the global community.
In the recent announcement of finalists, Len Blavatnik, founder and chairman of Access Industries and head of the Blavatnik Family Foundation, said, "Each day, young scientists tirelessly seek solutions to humanity's greatest challenges. The Blavatnik Awards recognize this scientific brilliance and tenacity as we honor these 31 finalists. We congratulate them on their accomplishments and look forward to their continued, future discoveries and success."
The Blavatnik National Awards for Young Scientists is a Limited Submission Opportunity supported annually by Research Development and Support, which offers proposal development assistance for strategic, federally funded opportunities. Services include coordination for complex proposals, content development and draft review. RDS further supports faculty by building relationships with external sponsors, hosting workshops and providing guides and language for common proposal requirements. RDS is part of the Office of the Vice Provost for Research.