Leading up to Vanderbilt's annual observance of Juneteenth, Vice Chancellor for Equity, Diversity and Inclusion André L. Churchwell hosted a discussion with two faculty members about this important date in history.  
Although slavery formally ended with the Emancipation Proclamation on Jan. 1, 1863, Texas was the last state to put the proclamation into practice. On June 19, 1865, Maj. Gen. Gordon Grander rode into Galveston, Texas, with 2,000 Union soldiers to announce that slavery was officially over in Texas. An estimated 250,000 people still were enslaved in Texas at the time.  
To reflect on the importance of this date, especially given the current sociopolitical climate in the U.S., Churchwell sat down with two historians from Vanderbilt's faculty, Reverend James M. Lawson Professor of History Dennis C. Dickerson and Associate Professor of History Brandon Byrd.  
Watch the conversation to hear their insights and learn more about the importance of Juneteenth to the past, present, and our shared future. For more about the history of Juneteenth, watch this piece Byrd shared in 2020. 
Campus Juneteenth events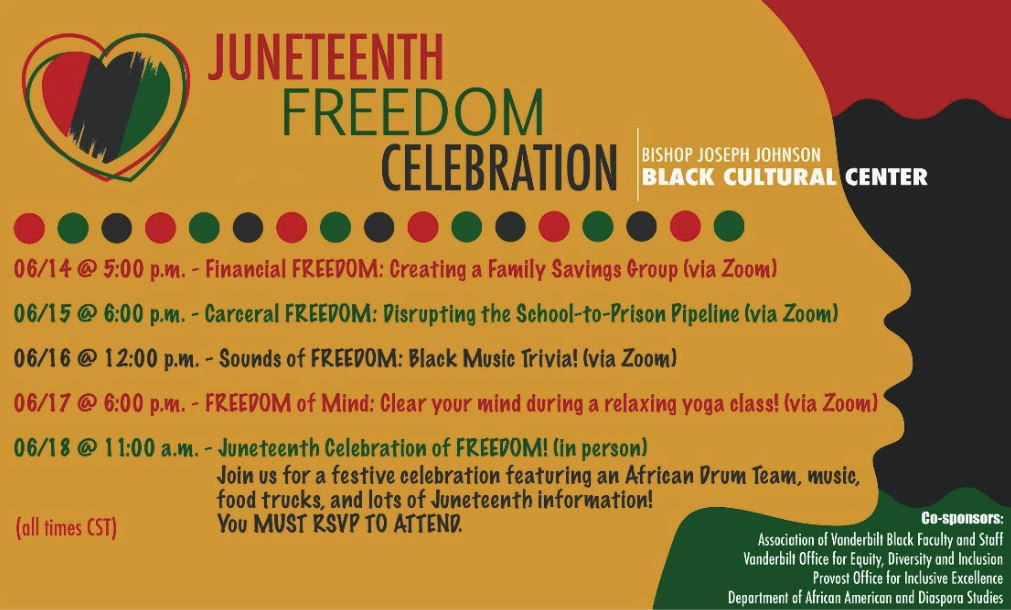 Each year, as part of the university's campuswide Juneteenth celebration, the Bishop Joseph Johnson Black Cultural Center hosts a series of events, including an annual barbecue, which began in 2019.  
This year's theme is "Black Freedom Celebration," and the lineup includes the following events, which are open to the entire Vanderbilt community. 
This year's festivities are co-sponsored by the Association of Vanderbilt Black Faculty and Staff, the Office for Equity, Diversity and Inclusion, the Provost's Office for Inclusive Excellence and the Department of African American and Diaspora Studies. For more information, please contact the Black Cultural Center. 
Additionally, the  Nashville Jazz Workshop and the  Curb Center for Art, Enterprise and Public Policy  at Vanderbilt will participate in the Juneteenth Jazz and Art Live Experience from noon to 5 p.m. Saturday, June 19. The event, which will feature a community art exhibit and children's interactive art zone, will be at 1012 Buchanan St., Nashville, TN 37208.  
Also on Juneteenth, the School of Nursing will be holding a COVID-19 mobile vaccine clinic at Cayce Homes in East Nashville. Cayce is part of the Metropolitan Development and Housing Authority, a Metro Nashville entity that provides low-income housing. To date, the mobile clinic facilitated by the School of Nursing and the Vanderbilt University Medical Center has inoculated more than 1,000 people.