Media Inquiries
Latest Stories
United States Space Force Chief of Space Operations Gen. John W. "Jay" Raymond visited Vanderbilt University to learn about the pioneering aerospace engineering projects at the university's research institutes and trans-institutional programs. The visit also presented areas for collaboration with the newest independent service of the U.S. military.
After an introduction by Vice Chancellor for Government and Community Relations Nathan Green, Raymond heard from the directors of the Institute for Space and Defense Electronics, Institute for Software Integrated Systems, Vanderbilt Aerospace Design Laboratory and the Office of the Vice Provost for Research's Defense Related Innovation leader. Raymond also met privately with Chancellor Daniel Diermeier and Vice Provost for Research Padma Raghavan.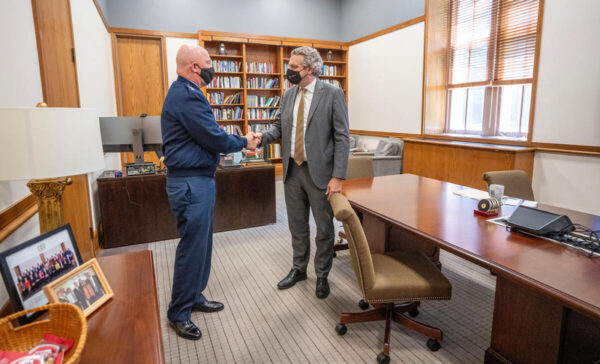 "We were delighted that General Raymond and the members of the Space Force leadership could meet with us to discuss their technology and workforce needs as well as some of Vanderbilt's key strengths in cyber and electronics R&D," Raghavan said.  "We hope to continue our conversations to find ways to work together to develop mission-relevant technologies and a diverse community of STEM innovators."
Green added that Vanderbilt's programs make it ideally suited for partnership with Space Force.
"General Raymond's visit to Vanderbilt's campus was an ideal opportunity to share the collaborative and cutting-edge work being conducted at our world class research institution," he said. "We are looking forward to the opportunities that a collaboration with the U.S. Space Force would provide our faculty and students to make a meaningful and positive impact on the world. Vanderbilt is well equipped to support this new digital-first service that combines technical problem solving and precise execution."
The ISDE is the largest academic program in the world dealing with the radiation effects on electronic devices and systems, with the goal of enabling radiation-tolerant designs. Institute director and Orrin H. Ingram Professor of Engineering Ron Schrimpf shared the projects the institute is working on relevant to mission-critical systems. The institute's associate director and Research Professor of Electrical Engineering Michael Alles described the program's success at using a pipeline approach to recruit undergraduate trainees to a field that is of vital importance to people flying and operating spacecraft.
"We are partnering with universities to help develop research and technology, and also people," Raymond said. "What I saw today was a combination of 'here's what we're working on' and 'here's how we're developing our talent.' That intersection is really important to us."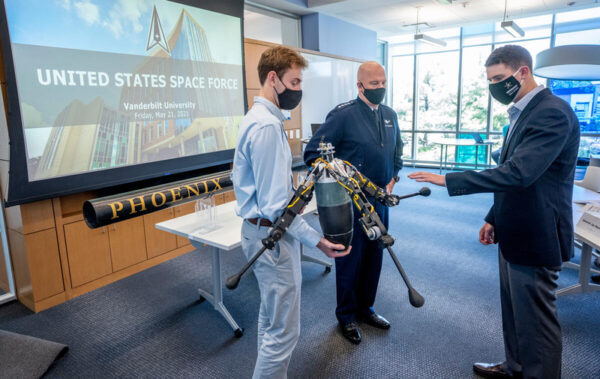 "We are partnering with universities to help develop research and technology, and also people," Raymond said. "What I saw today was a combination of 'here's what we're working on' and 'here's how we're developing our talent.' That intersection is really important to us."
Amrutur Anilkumar, director of VADL and professor of the practice of aerospace and mechanical engineering, shared his excitement about the reinvigorated "access to space" that is bringing more students to the discipline. He explained the challenges that Vanderbilt students took on as part of the NASA Student Launch competition, and recent graduates in mechanical engineering Will Reisner and Adam Smith demonstrated the rocket design for the current challenge year; the Vanderbilt rocket team has won seven NASA Student Launch national titles.
"We're trying to build our service as the first digital service, so there's a lot of discussion about data and software and computation. The highlight for me was the last presentation where the students got up and brought it all together with their project," Raymond said.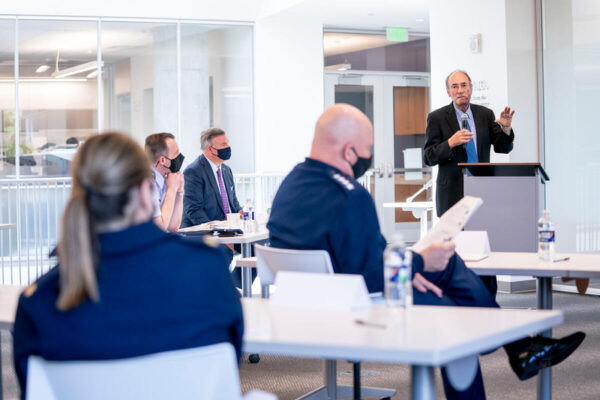 Janos Sztipanovits and Gabor Karsai, director and associate director of the Institute for Software Integrated Systems, highlighted their marquee projects. Adaptive Vehicle Make is a $30 million project funded by DARPA with the goal of dramatically reducing the costs and lead times involved in developing new military vehicles by radically transforming existing design and manufacturing processes. And Sztipanovits outlined his partnership with Microsoft to "compute the biome," an effort initially funded by a National Science Foundation Convergence Grant. Through ISIS, he is leading the academic component of a technology that is combining robotics, genomics and big data to predict emergent pathogens before they cause widespread disease.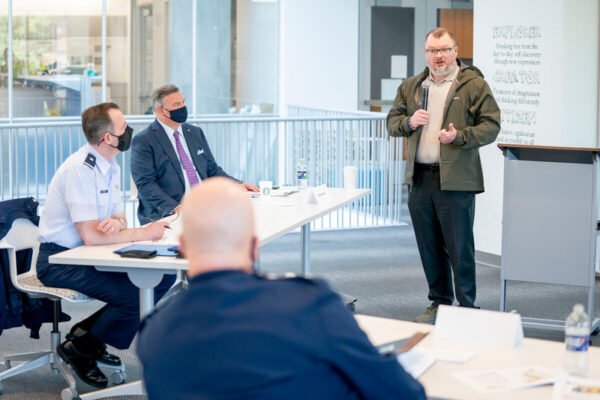 Jay Harrison, professor of practice of defense related innovation in the Office of the Vice Provost for Research, shared his work with the Army Futures Command within the 101st Airborne Division from nearby Fort Campbell. The partnership's goal is to bring researchers and technology operators together in a problem-solving context, which has been a longstanding barrier to innovation.
Raymond characterized the visit as spectacular. "I'm hoping this is the beginning of a conversation that will last long into the future," he said. "I see great value for us, and hopefully it will be mutually beneficial for Vanderbilt as well."
Raymond serves as the senior uniformed Space Force officer responsible for the organization, training and equipping of all organic and assigned space forces serving in the United States and overseas. Also present for the meeting was Space Force Deputy Human Capital Officer Brig. Gen. Shawn Campbell. During his time in Tennessee, Raymond attended the Tennessee STEM Innovation Network Summit in Franklin and participated in a Space Force enlistment event at Tennessee State University.