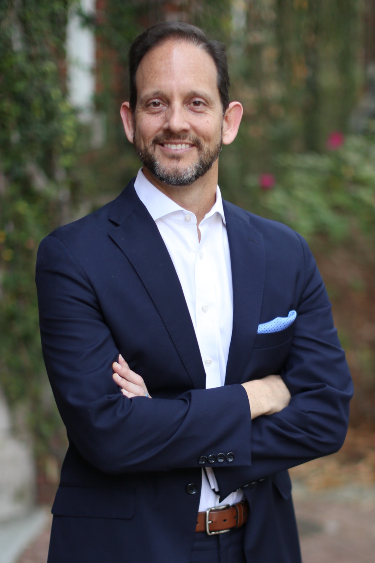 Alex Sevilla, an associate dean at the University of Florida's Warrington College of Business, has been named vice provost for career advancement and engagement at Vanderbilt University. He also will serve as the Evans Family Executive Director of the Career Center. His five-year term begins Aug. 9.
The new vice provost role, which reports directly to the provost, reflects Vanderbilt's commitment to increasing career engagement resources for students, alumni and employers. Sevilla will be a key strategic partner working with all academic deans and other vice provosts to support current students, as well as with the vice chancellor for development and alumni relations for support and connection with alumni.
"When we announced that we were increasing support for our graduates' career success by creating a new vice provost position, we knew that we had to recruit someone who's not only an accomplished leader and strategic thinker, but an expert collaborator as well," said Susan R. Wente, provost and vice chancellor for academic affairs. "Alex has shown that he can partner effectively with a variety of stakeholders in building successful programs and maximizing students' career opportunities. I'm excited to see what he will accomplish at Vanderbilt."
Sevilla will oversee the direction of the Career Center while further strengthening employer and corporate relations and alumni career engagement for the university. The Career Center serves all full-time undergraduate and graduate students with a portfolio that includes high-touch engagement programs, workshops and employer partnerships for career development. The center offers career coaching for recent graduates as well.
"Ensuring that Vanderbilt students have the support they need to launch careers and maximize their opportunities for learning and enrichment through internships and other programs will further elevate our world-class educational experience," said Bruce Evans, BE'81, chairman of the Vanderbilt Board of Trust.
For the past five years, Sevilla has been the chief administrative and strategic lead for Warrington College's Heavener School of Business, one of the nation's top-ranked undergraduate public business schools. There, he leads school strategy, operations and innovation for more than 5,000 business students in the areas of academic and career advising, corporate engagement, career readiness, leadership development, experiential learning, international programs and equity, diversity and inclusion. He also played a critical role in Warrington College's response to COVID-19, creating safety protocols and assisting with crisis management and external communications.
"I'm both humbled and elated to be joining the provost's office at Vanderbilt," Sevilla said. "This is a tremendous opportunity to elevate what the university is already doing and expand its current relationships with employers and alumni. I look forward to working with university leaders and the One Vanderbilt community to ensure the career success of our graduates and empower their futures."
Sevilla, who holds a doctor of education from Pepperdine University and an MBA and bachelor's from the University of Miami, was selected after an extensive nationwide search by a committee chaired by Douglas L. Christiansen, vice provost for university enrollment affairs and dean of admissions and financial aid.
Sevilla will be the second leader to hold the position of Evans Family Executive Director of the Career Center. The inaugural director, Katharine S. Brooks, served in the role for five years, during which time she expanded access and outreach to Vanderbilt students across disciplines and increased the number of employers who come to campus to hire them.