Media Inquiries
Latest Stories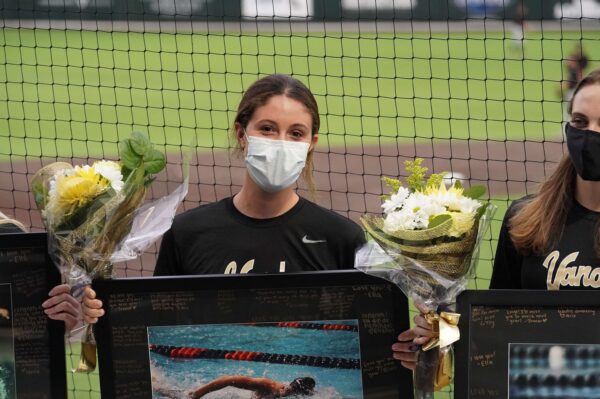 As she prepared to defend her senior honors thesis in April, Brooke Ellis could call on plenty of Vanderbilt experiences that prepared her for the moment.
There was the public speaking class she struggled through but survived as a first-year student, and the internships she sought out across a variety of industries. There were the words of professors whose courses influenced her and of the adviser who encouraged her to create her own path.
But as the clock ticked toward Ellis' attempt to become the first Communication of Science and Technology student ever to achieve highest honors, she found the most immediate comfort and confidence in her experiences as a Vanderbilt swimmer.
The nervousness and adrenaline before a big event, the taking a leap of faith and trusting her training—all of that felt familiar.
"No one likes to feel, for lack of a better phrase, like they're about to throw up behind the blocks. But you always need that feeling in the pit of your stomach just to get you jazzed up to go," Ellis says. "I had that similar feeling" leading up to the thesis defense.
As a swimmer who recorded the seventh-fastest times in Vanderbilt history in the 200-meter butterfly and 200-meter individual medley, Ellis has some expertise in successfully managing nerves. That carried over outside the pool as she successfully defended her thesis titled "Proactive and Profitable: Reducing Carbon Emissions in the United States Private Sector."
---
Ellis knew she was an athlete when she arrived at Vanderbilt in 2017 from Coral Gables, Florida. She was less sure about what else she wanted to be. But in the Communication of Science and Technology program, she found a major that didn't restrict her to a particular lane. Now she's graduating not just with a slew of personal bests and a degree, but with a purpose and a passion beyond the pool.
Ellis had first visited Nashville as a high schooler for a swim club meet at Centennial Sportsplex, near Vanderbilt's campus, and her coach suggested sticking around for a day to tour the university. Though she's an incessantly indecisive person—by her own admission—Ellis didn't hesitate to commit when presented later with the opportunity to swim for the Commodores.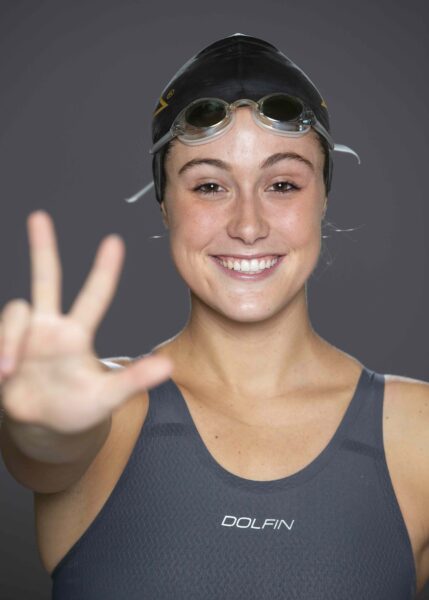 But even if she knew exactly who she was in the pool by then—that she didn't have the fast-twitch muscles for sprinting and that her best stroke was butterfly—her academic identity was a blank slate. A first-year writing seminar titled "Green Cities" introduced her to thinking about environmental sustainability in a 21st-century context, which led her to study the course catalog for ways to build on that interest. That, in turn, led her to David Weintraub, professor of astronomy and CSET program director.
CSET is a relatively new program at Vanderbilt and attracts students who, according to Weintraub, want "one foot in the sciences and one foot in the humanities." The science could involve anything from biochemistry to climate, but the core goal is to prepare students to understand their chosen branch and communicate it.
"If you ever tried to read the instructions for assembling a bicycle or a swing set or a barbecue grill, you know that it's very difficult to communicate even simple technical information to the nonexpert very well," Weintraub explains. "You end up with three nuts and bolts left over, and the bicycle doesn't run.
"So for a biologist to be able to communicate whatever they're doing in the lab to you and to me and to my grandmother, and to do that effectively, is of critical importance."
After discovering CSET, Ellis delved into environmental issues and the intersection of business and sustainability (she graduates with a minor in business). She landed a remote internship in spring 2020 with Clearloop, a Nashville-based company involved in carbon offsets and solar energy projects. She extended that internship into this past fall; the combination of a remote workplace and a swimming schedule curtailed by the pandemic worked to her advantage in balancing her responsibilities.
As that internship neared an end, she approached Weintraub about doing a senior thesis on carbon reduction in the private sector. That label encompasses a vast swath of businesses, from mom-and-pop stores to multinational corporations with correspondingly enormous carbon footprints, but her research pointed to a universal conclusion.
"Why aren't these companies making this one of their top priorities when, in fact, it is a profitable decision?" Ellis says. "It makes sense from both a planetary and profit standpoint to make these changes. Maybe there are some upfront extra costs or uncertainty, but what I wanted to communicate in this thesis is that in the long run it makes sense. There's no reason companies large and small shouldn't take the next step toward reducing their footprint."
Soon after successfully defending her thesis, she accepted a job with Silicon Ranch, another Nashville-based company committed to bringing solar energy projects to rural communities that are often otherwise underserved by the renewable energy movement.
---
Ellis came to competitive swimming rather late for someone who would go on to compete in the SEC. She tried just about every other sport before settling in the pool late in middle school. She had to find her own way. But once she did, she pursued the newfound passion with distinction—enough distinction that she ended up at Vanderbilt.
No event was more central to that than the 200-meter butterfly. It was her best event—the one she devoted the most time to honing, and the one that made her a college swimmer.
It also turned out to be the last race of her college career, in February's SEC Championships. When she finished, she didn't even check her time. She just shared a smile with teammate Kristen Nutter in the next lane, satisfied to live the moment with someone who understood.
Bittersweet, yes. But more sweet than bitter.
"I think if the craziness of this past year did anything for us, it was to get us ready for that next step," Ellis says. "It just showed us that your life doesn't have to be consumed by swimming, and there are ways to get around that."
And if you find yourself doing something that gives you those familiar pre-race butterflies, you are probably on the right path.