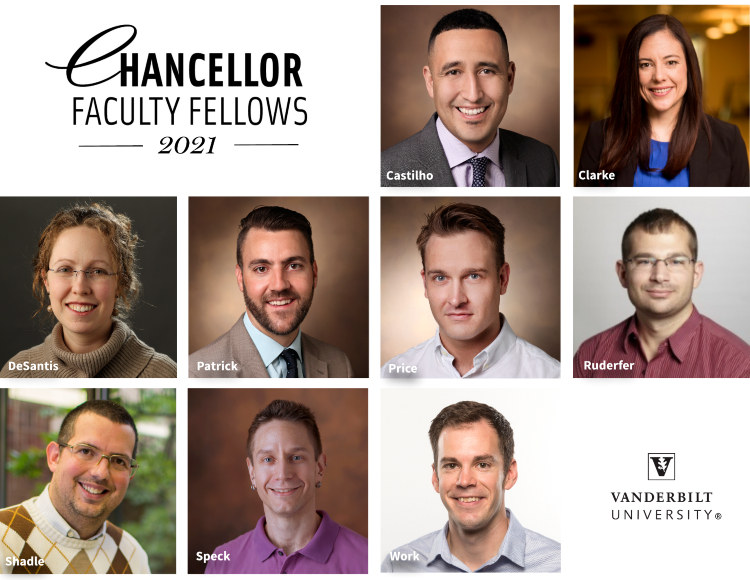 Nine outstanding faculty members from across the university have been selected for the 2021 cohort of Chancellor Faculty Fellows. This group is composed of highly accomplished, recently tenured faculty from a wide variety of disciplines and areas of expertise.
"Our exceptionally talented faculty drive Vanderbilt's mission of scholarship, teaching and innovation," Chancellor Daniel Diermeier said. "By investing in their early careers, we are setting the stage for the breakthrough discoveries and meaningful collaborations that will enhance our academic community and advance positive change in the world."
The selected faculty members will meet as a group during the course of their fellowships to exchange ideas on teaching and research, building a broader intellectual community that advances trans-institutional scholarship, as well as to engage in academic leadership development events to increase their leadership capacity.
"Since its inception, the Chancellor Faculty Fellows program has supported outstanding faculty members who have made transformative and lasting contributions to the Vanderbilt community and to their fields," said Provost and Vice Chancellor for Academic Affairs Susan R. Wente. "We are proud to support their ongoing pursuits—and to provide this enriching forum where they can work with each other and with students to address the complex problems facing our world today."
The 2021 Chancellor Faculty Fellows are:
"These esteemed scholars represent diverse disciplines and demonstrate a strong commitment to education, discovery and care," said Jeff Balser, president and CEO of Vanderbilt University Medical Center and dean of the School of Medicine. "The fellowship program will create opportunities for these faculty leaders to share knowledge, identify new avenues for collaboration, and have a significant impact on Vanderbilt and its mission of serving society."
The Chancellor Faculty Fellows program was launched in September 2014 under the Trans-Institutional Programs, or TIPs, initiative to support outstanding faculty who have recently received tenure. This year, Chancellor Faculty Fellow candidates were nominated by their deans or dean's designees.
The Chancellor Faculty Fellow Review Committee is comprised of past fellows with collaborative oversight by Tracey George, vice provost for faculty affairs, and Jennifer Pietenpol, VUMC executive vice president for research, and reviews all of the nominations to make recommendations to Diermeier, Wente and Balser.