Media Inquiries
Latest Stories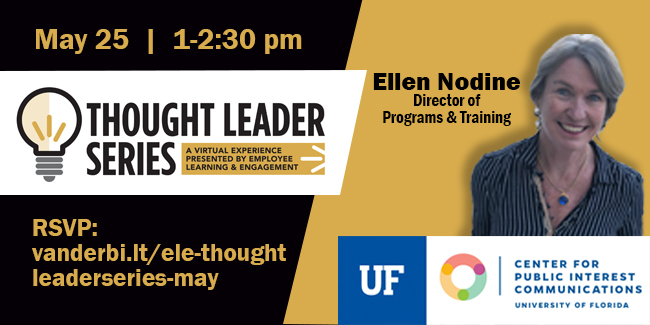 Employee Learning and Engagement's Thought Leader Series will present "The Science of What Makes People Care: The Fundamentals of Excellent Communication" on Tuesday, May 25, from 1 to 2:30 p.m. CT via Zoom.
This session will introduce participants to six core communication principles from behavioral, cognitive and social science that can be applied to help people care more about their work. Through engaging online activities, participants will practice using the concepts and share feedback on how to develop and test these communication efforts with their peers.
Vanderbilt Human Resources is partnering with the Center for Public Interest Communications at the University of Florida College of Journalism and Communications, which offers strategic communications professional development workshops for faculty and staff. The customized workshops are led by expert coaches who draw on recent findings and insights from psychology, sociology, neuroscience, public relations and political science scholarship.
About the facilitator
Ellen Nodine is director of programs and training at the Center for Public Interest Communications. She provides leadership for the strategic communications and science communications trainings and workshops offered by the center, as well as serves as a coach for the workshops. She also directs the University of Florida's online master's program in public interest communications. Nodine received her master of education from the University of Florida, with a specialization in education technology and curriculum design. Her area of study is community building, social presence and social media. She spent 20 years in the Caribbean, working in the community and co-founding a not-for-profit K-12 school.
To RSVP, please visit http://vanderbi.lt/ele-thoughtleaderseries-may.
For questions or more information, email the ELE team at ele@vanderbilt.edu.