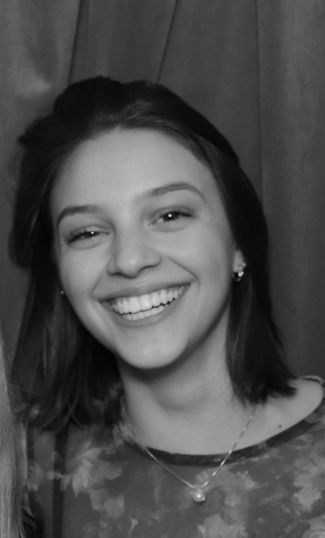 Emily Kopec is the 2021 recipient of the Margaret Stonewall Wooldridge Hamblet Award, the Department of Art's top student prize. Her senior exhibition, titled "Merely," features a series of works created from recycled clothing and wearable materials.
The Department of Art has supervised the awarding of the Hamblet Award since 1984. The award, worth $25,000, was established by Clement H. Hamblet in honor of his wife, whom he met while she was studying abroad. The Hamblet Award is meant to provide the means for travel and independent art activity for one year, culminating in an exhibition at Vanderbilt.
Kopec describes her show as exploring "an unquantifiable human presence that questions the viewer's relation to themselves and others."
Influenced by critical theorists such as Hegel, Adorno and Horkheimer, the Kopec uses sculptural forms to question instrumental rationality. "Within each sculpture it is unclear how many bodies are represented and how those bodies relate to the body of the viewer. This disruption of instrumental reason, the inability to identify the quantity or identity of the bodies in the way typically experienced when one encounters another, evokes feelings of loss, confusion, humor and reconnection," Kopec said.
Kopec is a conceptual artist from New Jersey who uses recycled clothing and household objects to explore the deconstruction and reconstruction of bodily forms through material. Her work is informed by her studies in German and psychology, and by her Austrian heritage. Kopec will receive a bachelor's degree in studio art, psychology and German studies.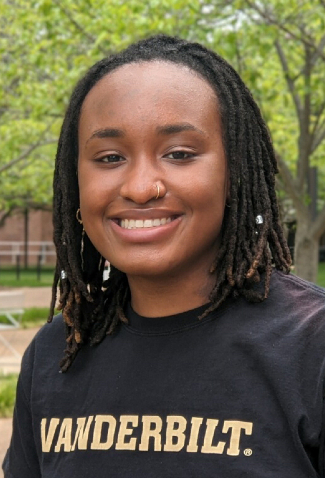 Cayla B. Mims is the 2021 recipient of the $10,000 Merit Award. Her exhibition, "Home," features four large mixed media paintings on paper.
"Home" is an installation of four large-scale multimedia collages centered around unearthing family narratives embedded in a piece of land outside Jackson, Mississippi. The work addresses the complex legacy of struggle, both historical and contemporary, on land held in the artist's family for three generations.
"While 'Home' features my family, the injustice, corruption and power struggle it relates is the story of many Black American families," Mims said. "Using figurative painting and drawing, portraiture and text, I convey the sociopolitical nuances that define the layered history of this land and the emotive ways I am navigating this narrative as both artist and inheritor."
Mims is a visual artist from Illinois. Influenced by her studies in sociology and studio art, she uses painting, portraiture, autobiographical text and ephemera to synthesize sociological frameworks, her intersectional identity, and a passion for activism and positive representation of Black and Brown people. She will receive a bachelor's degree in sociology and in studio art.
"Inseparable: Senior Show 2021" features the capstone exhibitions of the four graduating senior art majors: Emily Kopec, Cayla B. Mims, Julia Nahley and Colleen Rose McHugh. Each exhibition, currently installed in Space 204, is viewable virtually at vanderbilt.edu/arts/inseparable.