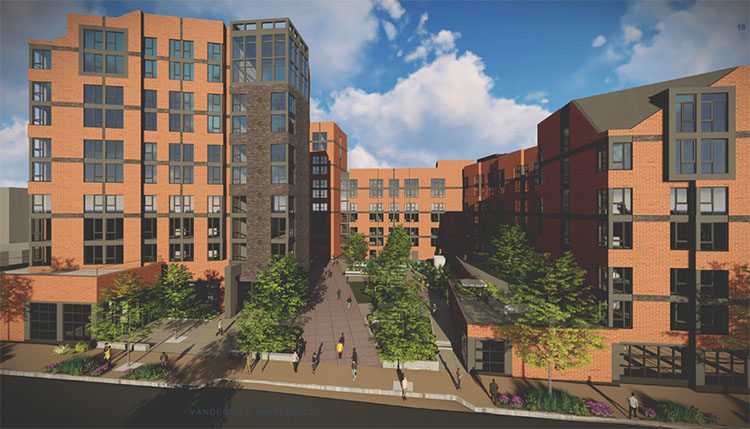 Construction will begin on Vanderbilt University's housing development for graduate and professional students during the week of April 26. Adjacent to campus on Broadway, between Lyle and 20th avenues, the development is the culmination of student feedback and the university's desire to provide graduate and professional students housing near campus at below-market rates. Construction, originally scheduled to begin in summer 2020, was delayed due to COVID-19. The building is expected to house students for the 2023–24 academic year.
"This important project will further strengthen our support of graduate and professional students by providing an environment in which they can engage and learn from one another beyond the classroom," Chancellor Daniel Diermeier said. "These informal spaces for collaboration are central to our mission of shaping the future leaders of tomorrow, and to empowering scholars to think boldly and across disciplines."
In addition to providing a unique living-learning opportunity in the heart of midtown Nashville, the development marks an important milestone to help foster a greater sense of community and collaboration among graduate and professional students. This housing environment will be reflective of the diversity and inclusion that Vanderbilt values in graduate and professional education.
"The university's graduate and professional housing development plan is essential as we continue to attract and retain some of the best students from across the country and the globe while building on the growth and achievement of our schools," said André Christie-Mizell, vice provost for graduate education and dean of the Graduate School. "While the pandemic has certainly impacted our timeline, we never lost sight of our long-term goals, and we are excited to once again focus on this important effort."
The project will feature approximately 615 beds, offering a mix of unit types, a public courtyard, a fitness center and a collaborative workspace open to all graduate and professional students. The ground floor of the building also will include retail space open to residents and the surrounding community. Vanderbilt teamed with Brailsford & Dunlavey, a national development advisory firm and leader in managing higher education public-private partnerships, to define a program tailored specifically to Vanderbilt graduate and professional students.
The university will move forward with Balfour Beatty Campus Solutions, a leading developer and operator of infrastructure projects for the college and university market, and Axium Infrastructure, an independent portfolio management firm dedicated to generating long-term investment returns through investing in core infrastructure assets. Balfour Beatty Campus Solutions and Axium Infrastructure have secured financing for the project, which they will develop, operate and maintain as a public-private partnership (P3) with the university.
Beginning with moving the Graduate School to Alumni Hall in 2016, the university has taken steps to foster a sense of community among graduate and professional students. Capital enhancements of Vanderbilt's graduate and professional schools, including the renovations and additions at the schools of nursing and divinity, the new Walker Management Library renovation at the Owen Graduate School of Management and the newly renovated Annette and Irwin Eskind Family Biomedical Library and Learning Center, have added more space for student and faculty collaboration and events.