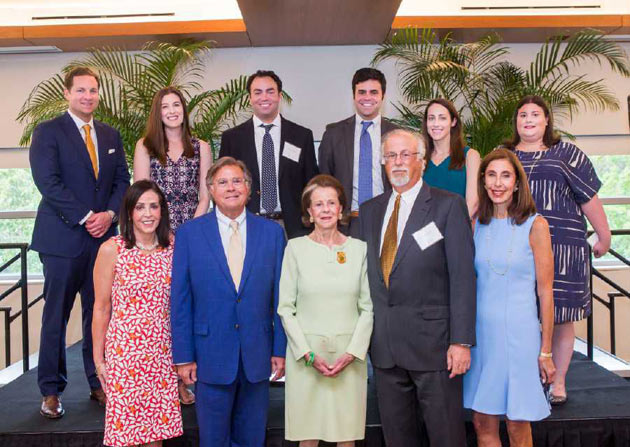 The Annette and Irwin Eskind Family Biomedical Library and Learning Center opened July 18 after a yearlong, $12.9 million renovation with infrastructure improvements and updates to support the continuing evolution of medical education.
The construction project was designed to incorporate the university's research, learning and teaching goals and includes features that complement the School of Medicine's innovative Curriculum 2.0. It also meets LEED Silver certification standards.
"This project reflects Vanderbilt's immersive, collaborative brand of education and will support the learning needs of the next generation of physicians, nurses and biomedical scientists," said Provost and Vice Chancellor for Academic Affairs Susan R. Wente. "The renovated library and learning center space will help keep Vanderbilt at the forefront of supporting biomedical research and medical education, and we are grateful to the Eskind family for their generous support."
The project was supported with a visionary $6 million gift to Vanderbilt University from the Eskind family in 2016. Longtime Vanderbilt benefactor Annette S. Eskind and her two sons and their wives, Dr. and Mrs. Steven J. Eskind and Dr. and Mrs. Jeffrey B. Eskind, made the gift to continue the vision of the late Dr. Irwin Eskind.
"This library, and Vanderbilt as a whole, meant a great deal to Irwin. The training of the next generation of physicians and researchers was his passion," said Annette Eskind.
Dr. Irwin Eskind was a 1945 graduate of Vanderbilt University, a 1948 graduate of the Vanderbilt University School of Medicine and a longtime member of the Vanderbilt Board of Trust. He was a clinical professor of medicine, emeritus, at Vanderbilt and worked on the staffs of Vanderbilt and Saint Thomas hospitals.
"We are excited to have a new home for the School of Medicine's M.D. educational programs. Renovation of the library provides an innovative and adaptable environment for how our students learn today," said Dr. Jeff Balser, president and chief executive officer for Vanderbilt University Medical Center and dean of the Vanderbilt University School of Medicine. "We remain grateful for the vision and generosity of the Eskind family as they continue to support initiatives that transform Vanderbilt's future."
Vanderbilt and the Nashville community have long benefited from the Eskind family's philanthropy. Dr. Eskind, who passed away in 2005, devoted enormous personal effort to enhancing the resources of Vanderbilt University and Vanderbilt University Medical Center. In addition to the biomedical library, he was instrumental in establishing the comprehensive Vanderbilt-Eskind Diabetes Clinic and the Annette Schaffer Eskind Chair at the Vanderbilt Kennedy Center. His sons jointly established the Irwin B. Eskind Symposium on Diabetes Care and Research in their father's honor prior to his death.
The Eskind library won awards for its design emphasis on transparency when it was first built nearly 30 years ago, and the renovation has preserved those features. "The renovation comes at a transformative moment in the history of the Eskind library," said University Librarian Valerie Hotchkiss. "We have improved our technology and recently introduced an integrated library system, while holding on to the traditional aspects of a library that inspire research and learning. We are excited to begin life in the new building with a dynamic new director of the library, Philip Walker."
Vanderbilt medical students will now call the renovated Eskind library and learning center their new home. Their learning hub moved from its longtime quarters in Light Hall to Eskind's second, third and fourth floors, which feature flexible, technology-enhanced classrooms, study spaces, a lounge and a rooftop patio as well as offices for administrators and staff. The ground and first floors are dedicated to library space, and the History of Medicine collection will be housed on the third floor.
"We are very excited about this new space, which was specifically designed for our needs and supports the hands-on, team-based learning of our new curriculum," said Bonnie Miller, senior associate dean for health sciences education and executive vice president for educational affairs at Vanderbilt University Medical Center. "We fully implemented our new curriculum five years ago. Now, the layout of the space and the technology enhancements support the very active, engaged learning that defines Curriculum 2.0."
Hastings Architecture Associates designed the renovation. Messer Construction Company was the general contractor.