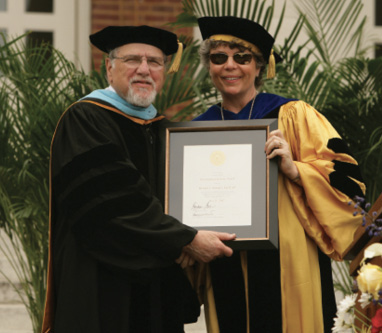 Melvyn Ivan Semmel of Santa Barbara, Calif., a researcher and educator who helped shape the nation's understanding and policies relating to students with disabilities, died Feb. 25.
He started his career as a special education teacher in Harlem and the southeast Bronx after working with street gangs as a group social worker. Following an appointment as demonstration teacher at Hunter College in New York, he earned a master's degree at SUNY Buffalo, and then a doctor of education with an emphasis in mental retardation in Peabody's Department of Psychology and Human Development.
After completing his doctorate, he joined the Joint Education and Psychology Program at the University of Michigan–Ann Arbor, where he also was a research scientist at the Center for Research on Language. As a professor at Indiana University in the 1970s, he directed the Center for Innovation in Teaching the Handicapped. In 1978, he and his wife, Dorothy Silberman Semmel, MA'63, joined the faculty of University of California–Santa Barbara, and founded the school's special education program, now called the Special Education, Disabilities and Risk Studies Program. Under Semmel's leadership, the UCSB special education program and laboratory won millions of dollars in federal research and training grants, rose in national rankings and trained many doctoral students who filled research, policy and teacher education positions at major universities around the United States and the world. The Gevirtz Graduate School of Education of UCSB awarded Mel Semmel the prestigious Edward A. Dickson Emeriti Professorship for 2008–09, the year marking the 30th anniversary of the program he and his wife founded.
He was a prolific author, with more than 80 scholarly articles, nearly a quarter of them after his retirement from teaching in 1994. He wrote across a number of fields in special education, always centered on issues of classroom teaching and technology. He mentored dozens of doctoral and postdoctoral students. Among his many awards, he was the inaugural recipient of the Research Career Award from the Council for Exceptional Children; he received the Lifetime Achievement Award for Research in Special Education from the American Educational Research Association in 1995; and in 2007 he received the Distinguished Alumnus Award from Peabody College.
After his retirement, he devoted his professional time and energy to international policy consulting, evaluation, research and volunteer work.
He is survived by his wife; two children, including Lisa Semmel Sharp, BS'78; a sister and four grandchildren.
—STAFF REPORTS