Vanderbilt's Health Professions Advisory Office, in collaboration with Dr. Ben Ho Park, professor of medicine and director of precision oncology at Vanderbilt-Ingram Cancer Center, gave a group of undergraduate students a firsthand look at how physicians approach specialized cancer treatment. The students were given the opportunity to participate in a series of virtual "tumor boards."
Tumor boards are a collection of health care providers who review individual patient cases to determine the best course of action for cancer treatment. Tumor board members typically include specialists ranging from medical oncologists, surgical oncologists, pathologists, genetic counselors and medical ethicists. The Vanderbilt students were able to attend their choice of nine different tumor boards: hematology, thoracic, genitourinary, melanoma, breast, head and neck, molecular, international molecular and amyloid diseases.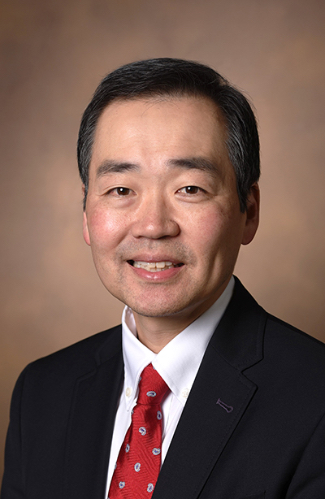 "Although the pandemic precluded undergraduate students from the traditional 'shadowing' experiences of following physicians in clinics, online tumor boards quickly became the norm, allowing our students to virtually attend and gain some initial insights into how oncology is practiced at large, tertiary-care academic medical centers," Park said. "As an educator, I'm grateful for the opportunity to help inspire the next generation of physicians and clinical researchers."
More than 180 students attended an introductory lecture led by Park and then were assigned to one or two of the tumor boards depending on their interests.
"Dr. Park's introduction to the tumor boards provided an excellent backdrop of basic sciences and individual cases that helped students know what to expect in these clinical discussions," said Michelle Grundy, director of the Health Professions Advisory Office. "I know the students are incredibly grateful that he helped make this opportunity a reality for them."
Some of the undergraduates served as tumor board student liaisons, responsible for keeping each student group organized. These liaisons assisted with logistics and communication with the HPAO, and some organized special activities and initiatives within their groups.
Brian Yoon and Khari Walter served as student liaisons for the Thoracic Tumor Board. Yoon is a sophomore medicine, health and society major who is currently engaged in a bioinformatics internship with Vanderbilt University Medical Center as well as IBM to assess health care disparities in lung cancer genomics.
"Being able to participate in the tumor board sessions as an observer allowed me to receive valuable exposure to the methodical thought process oncologists go through to formulate the best possible care for each patient," Yoon said.
"Allowing undergraduate students to listen in on these tumor board meetings allows them to take advantage of a great opportunity that wouldn't necessarily have presented itself during non-pandemic times," added Walter, a first-year student. "With all of the challenges and disappointments this pandemic has brought, I'm glad we've had the unique opportunity to participate in these engaging medical discussions."
The HPAO/VICC tumor boards will resume in fall 2021. Students can join the HPAO listserv (HPAO@vanderbilt.edu) to learn more about programs offered by the Health Professions Advisory Office.