Media Inquiries
Latest Stories


Julie Barroso, professor of nursing, will discuss patient-driven research as it relates to "long COVID-19," the range of symptoms that can last weeks or months after first being infected with the virus. She also will discuss nursing care for long COVID-19 patients.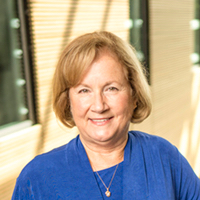 The webinar will be at noon CT on Tuesday, April 27; registration is required. The virtual event is presented by the Association of Nurses in AIDS Care and the COVID-19 Prevention Network.
The presentation will summarize the state of long COVID-19 research, describe patients' lived experiences and outline the nursing perspective on long COVID-19.
Barroso's other current research involves the development of a cognitive behavioral stress management app to combat HIV-related fatigue and a stigma reduction intervention for women living with HIV.