Media Inquiries
Latest Stories
Vanderbilt Peabody College of education and human development will host a virtual Dean's Diversity Lecture on Wednesday, April 21, in conjunction with the publication of a new book examining Nashville's many sites important in the struggle for social justice.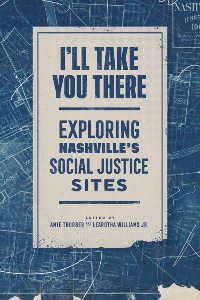 I'll Take You There: Exploring Nashville's Social Justice Sites is co-edited by Vanderbilt alumna Amie Thurber, PhD'18, assistant professor at Portland State University, and Learotha Williams Jr., associate professor of history at Tennessee State University and coordinator of the North Nashville Heritage Project. Thurber and Williams will be featured at the April 21 event, which begins at 7 p.m. CT and is open to the Vanderbilt community as well as the public.
Please register in advance to attend. >>
Thurber and Williams worked closely with more than 100 Nashvillians to collect stories and identify locations important to Nashville's social justice history. Their work is a model of a trans-institutional and community-centered project that highlights the lived experiences and voices of Nashvillians.
In their lecture, Thurber and Williams will discuss their experiences gathering these stories. The book's title is rooted in the idea of hospitable community guides who are able to offer safe passage through unfamiliar territory.
I'll Take You There: Exploring Nashville's Social Justice Sites is published by Vanderbilt University Press.