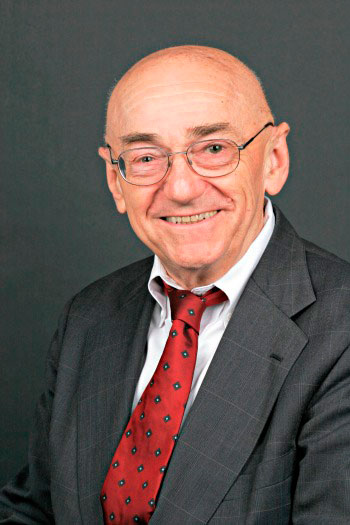 Centennial Professor of Philosophy John Lachs will retire and receive emeritus status on Aug. 15, after more than 50 years of teaching at Vanderbilt University. Lachs' thought-provoking lectures have been perennial favorites among not only students but also many alumni, who eagerly have signed up for his many appearances at Reunion and Vanderbilt Chapter events.
"Professor Lachs' scholarly insights and engaging teaching style have left an immeasurable imprint on Vanderbilt," said John Geer, the Ginny and Conner Searcy Dean of the College of Arts and Science and professor of political science. "He has influenced countless lives by making philosophy remarkably accessible to everyone. You can't help but come away from a discussion with Professor Lachs feeling as though you see the world—and yourself—a bit more clearly than you did before. I am grateful for his many years of service to the College of Arts and Science. His retirement is well deserved, and I wish him the very best."
Lachs, who received his doctorate from Yale University in 1961, joined Vanderbilt's faculty in 1967. His philosophical interests have centered on metaphysics, political philosophy and ethics, with a particular focus on American philosophy and German Idealism. He is the author of multiple books, including most recently Meddling: On the Virtue of Leaving Others Alone (Indiana University Press, 2014) and Freedom and Limits (Fordham University Press, 2014).
During his more than half-century on campus, Lachs is proud to have taught more than 10,000 Vanderbilt students who enrolled in his highly popular Introduction to Ethics course. He also was the first reader on 72 graduate student dissertations, an extraordinary number for any faculty member.
"It's incredibly rewarding when I come across alumni of all ages who share great memories from their time in my classes," Lachs said. "And some of my former students are now sending their grandchildren to my lectures. I'm deeply grateful to have been able to evoke so many Vanderbilt students' enduring passion for ethics."
Lachs, who received the Vanderbilt Alumni Education Award twice for his significant contributions to educational programming as a speaker for Reunion and other alumni events, has been a popular instructor for classes offered through the Osher Lifelong Learning Institute at Vanderbilt.
In recognition of Lachs' contributions to learning at Vanderbilt, alumni couple Elizabeth Sauereisen Allen, BS'83, and Greg Allen, BA'84, are helping to establish the endowed John Lachs Ethics Research and Engagement Fund, which will support undergraduate and graduate students, as well as faculty. The couple will match all contributions to the fund, up to $50,000, made by June 30, 2021.
"Professor Lachs has changed the way multiple generations of Vanderbilt graduates view the world," said Greg Allen, who earned his bachelor's in philosophy. "In particular, he has provided a solid foundation in ethics for so many students, and both Elizabeth and I want to ensure that this important legacy remains part of the Vanderbilt experience for years to come."
The Allens are active within the university community. Greg is a member of the Vanderbilt Board of Trust, and Elizabeth serves on the College of Arts and Science Board of Advisors. In addition to a need-based scholarship at the College of Arts and Science, they have established the Sauereisen Director of the Undergraduate Business Minor Program, the Greg S. Allen Chancellor's Faculty Fellow in Philosophy, and the Greg S. Allen Dean's Faculty Fellow in Philosophy. The couple has four children, including Vanderbilt graduate Erik Allen, BA'15.
Help Vanderbilt honor Lachs by sharing a special memory or note of congratulations.