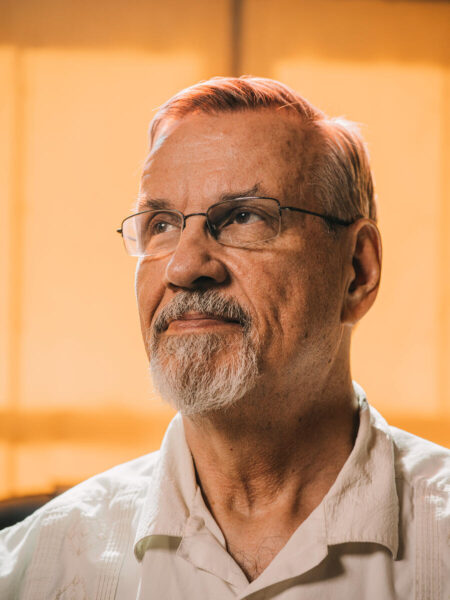 The Vanderbilt Alumni Association has named Barney S. Graham, PhD'91, as the recipient of the 2021 Vanderbilt University Distinguished Alumnus Award. This honor is the highest bestowed upon a member of the university's alumni community.
A pathbreaking immunologist, virologist, educator and leader, Graham has been instrumental in vaccine development for several decades. In recent months, he served as the chief architect for the first experimental COVID-19 vaccines, which have already transformed countless lives across the nation.
"Dr. Graham's expertise and innovation reinforce the power of research as a means to advance knowledge, educate and save lives during this unprecedented moment in our nation's history," Chancellor Daniel Diermeier said. "He embodies the value of scientific excellence, curiosity and commitment and could not be more deserving of this recognition."
"His time as a Commodore has been an influential part of Dr. Graham's story," said Tim Warnock, BA'84, president of the Alumni Association Board. "He has advanced Vanderbilt's mission in many ways over the years—through his contributions as a Ph.D. student, professor of medicine, laboratory director and leader at institutions across the country. It is a privilege to celebrate this honor with him."
Graham is currently the deputy director of the Vaccine Research Center and the chief of the Viral Pathogenesis Laboratory and Translational Science Core connected with the National Institutes of Health. Throughout his career, he has also served as the chief resident at Nashville General Hospital and head of the Vanderbilt AIDS Vaccine Evaluation Unit, among other key positions in medicine and research.
As a critical and enduring voice within the fight against COVID-19, Graham shared his insights at a virtual panel titled "Vanderbilt in the Vanguard: The Decades-Long Journey to a Coronavirus Vaccine," hosted by the Chancellor's Lecture Series. The event took place on Tuesday, March 23, and also featured Edward Claiborne Stahlman Professor of Pediatric Physiology and Cell Metabolism at Vanderbilt Mark Denison; Kathleen M. Neuzil, director of the Center for Vaccine Development at the University of Maryland School of Medicine; and Susan R. Wente, Vanderbilt's provost and vice chancellor of academic affairs.