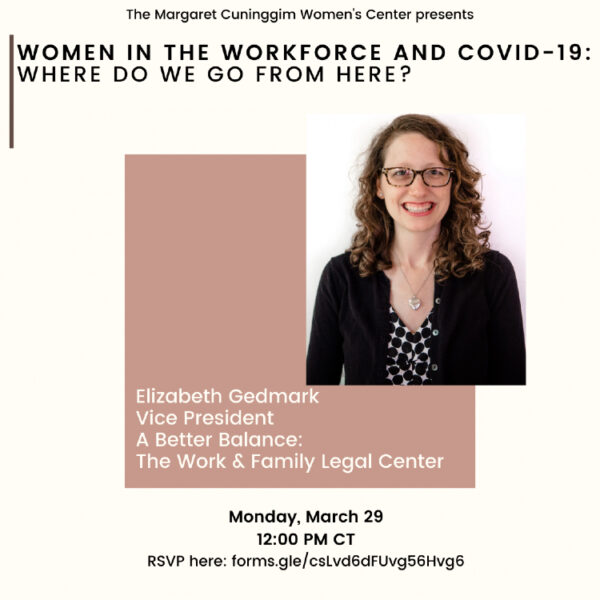 Elizabeth Gedmark, vice president of A Better Balance, a national nonprofit advocacy organization, will discuss "Women in the Workforce and COVID-19: Where Do We Go from Here?" on Monday, March 29. The virtual event will begin at noon CT and is part of Vanderbilt's 2021 celebration of Women's History Month.
The COVID-19 pandemic has put a spotlight on many previously existing inequities and barriers to women's equality in the workplace, particularly for women of color with caregiving responsibilities. The March 29 event will explore these issues, as well as offer solutions to overcome the setbacks to women's participation in the workforce as a result of the pandemic. Lacee Satcher, a Vanderbilt Ph.D. candidate in sociology, will join Gedmark for a conversation following her presentation.
A Better Balance launched its Southern office, based in Nashville, Tennessee, in 2014. The organization uses the power of the law to advance justice for workers so they can care for themselves and their loved ones without jeopardizing their economic security. The organization's legal experts combat discrimination against pregnant workers and caregivers and advance supportive policies—like paid sick time, paid family and medical leave, fair scheduling and accessible, quality child care and elder care—through legislative advocacy, direct legal services, strategic litigation and public education.
Gedmark, who joined A Better Balance in 2011, has leveraged the power of the law to help families in the South suffering from discrimination at work and to advance more family-friendly laws and policies. She is co-author of the book Babygate: How to Survive Pregnancy and Parenting in the Workplace and currently serves on the Nashville Mayor's Council on Gender Equity. She has a J.D. from the New York University School of Law and a B.A. cum laude from Wake Forest University.