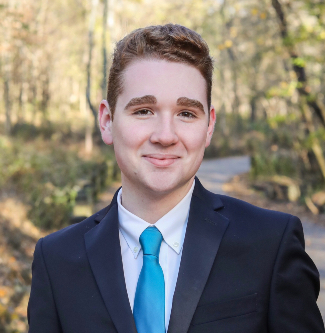 Matthew Shorten, BMus'20, from Wollongong, Australia, has been named to the 2021-22 class of Luce Scholars. A nationally competitive fellowship, the Luce Scholars Program was created by the Henry Luce Foundation in 1974 to enhance the understanding of Asia among potential leaders in American society.
Shorten is a tenor, composer, conductor and arts educator. As an interdisciplinary musician, he is committed to fostering artistic collaboration at the intersection of Baroque music, contemporary art song and global choral repertoires, sharing these rich traditions with audiences around the world.
As a Luce Scholar, Shorten will gain new perspectives through immersive living and professional work experiences in Asia. He was one of 18 students chosen following an intensive three-month selection process with over 160 semi-finalists.
"It really is a dream come true. I feel so honored to have been selected from such a competitive and diverse pool of applicants," Shorten said. "I am incredibly excited for the transformative year ahead and so grateful for the support of my family, friends and the Career Center staff. I cannot wait to connect with audiences and musicians across Asia during my time as a Luce Scholar. It is an incredible opportunity to inspire cross-cultural collaboration through music and its companion art forms—when the world needs it most."
While at Vanderbilt, Shorten led and curated both the Blair Salon and Living Sounds concert series at the Vanderbilt Blair School of Music. He also co-developed the Adopt-A-Choir initiative with the Vanderbilt ACDA Chapter, an organization he co-founded to provide opportunities for Nashville choir students to meet and perform alongside college-level musicians. In recognition of his achievements and contributions to the Vanderbilt community, he was named a 2020 Founder's Medalist.
Shorten is dedicated to the proliferation of the choral arts, both as a performer and composer, leading to his life-changing experiences as a VOCES8 Scholar. Alongside his fellow scholars, he traveled around the United States studying the art of ensemble singing, conducting arts education outreach visits with diverse school populations, and performing with renowned English choir VOCES8. Shorten looks forward to pursuing an international career that bridges his interdisciplinary musical passions.
The Luce Scholars Program provides stipends, language training and individualized professional placement in Asia for 15-18 Luce Scholars each year. Applications are welcome from college seniors, graduate students and young professionals who have limited exposure to Asia.
The Career Center supports undergraduates, graduate students and recent Vanderbilt University alumni in the fellowship application process. Those interested in the Luce Scholars Program or other competitive fellowships should contact Elizabeth Harrington Lambert, associate director of Fellowships and Scholarships.