Janie Kaiser always wanted to be a teacher. But during a semester in Nepal, she realized what she really wanted was to lead an education revolution.
As a Peabody senior majoring in child development, Kaiser studied abroad through the School for International Training, which has its roots in the Peace Corps. Her research goal was to study development and social change in Nepal.
Stretched between China and India, Nepal is one of the world's least developed countries; most of its 29 million people live in remote, rural villages. Kaiser partnered with Min Shahi, a 15-year veteran of Nepal's education system, to research schools in his remote hometown of Dailekh.
"I looked at their existing education programs and saw a lot of flaws," she says, "with huge gaps between what the teachers were trained to do and what really happened in the schools."
Kaiser gave Shahi her honest assessment. He suggested they start their own program.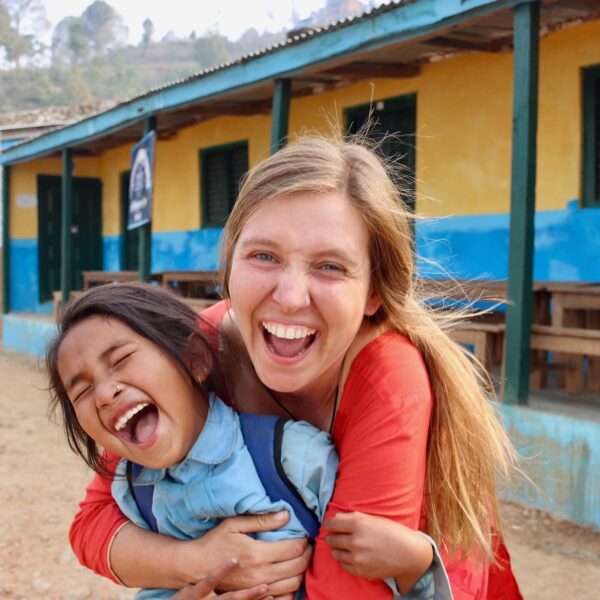 Education Concern Center Nepal, or ECC, was founded in 2017 with Shahi as executive director and Kaiser as managing director. The duo developed a four-part program—teacher training, classroom materials, improved infrastructure and teacher support. Kaiser creates all the interactive and active lesson plans, thanks to the coursework and research she enjoyed at Vanderbilt. "My strength is making learning fun," she says.
At 27, Kaiser has found her career path, with plans already brewing to add more grades at their existing schools, expand ECC into additional schools, have teachers train new teachers, and add libraries and computer labs. In five years, she hopes that ECC has 50 schools in Nepal and is reaching into other countries.
All this takes money. ECC's "sponsor a student" program has proved successful, and Kaiser recruits bigger donors for help with specific projects.
"I love Nepal, and I wanted to do something that would make a lasting impact," she says. "The success of ECC is so important to me, and thanks to my Vanderbilt education, I'm able to work toward that success every day."
—Jan Read
Kaiser welcomes readers' ideas and advice on teaching strategies. You can reach her through the website eccnepal.org.