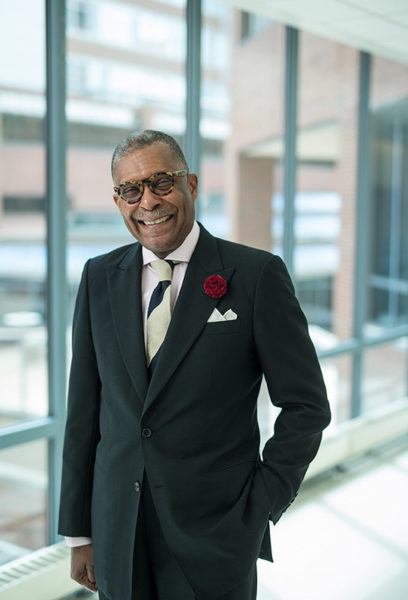 A new Vanderbilt event series highlighting diverse voices on vital issues, 'Dores in Dialogue, kicked off on Dec. 2, 2020, with a conversation on eliminating racial disparities in public safety and policing. The event was presented by the Vanderbilt Alumni Association and the Association of Vanderbilt Black Alumni.
The webinar was open to all and featured Dr. André L. Churchwell, BS'75, vice chancellor for equity, diversity and inclusion and chief diversity officer; William H. Robinson, vice provost for academic advancement and executive director of the Provost's Office for Inclusive Excellence; and August Washington, senior associate vice chancellor for public safety and special initiatives. Valerie Williams, BE'95, president of the AVBA, moderated the event.
Churchwell began by noting his concerns not only about racial disparities in policing, but also in health care, education, the criminal justice system and more. He described the guiding principles that inform decision-making by Vanderbilt's Office for Equity, Diversity and Inclusion—including that equity, diversity and inclusion must be the "centerpiece of our ethos at Vanderbilt."
Robinson, who co-chairs the University Diversity Council with Churchwell, touched on his personal journey growing up in a small town in central Florida and how life experiences create the lenses and biases through which people see the world. Robinson applies this insight to his work with partners at Vanderbilt to help ensure that people can bring their authentic selves to campus and be supported academically and culturally.
Washington described the history and progression of the Vanderbilt University Police Department—in particular its unique position as a fully integrated department within the university—and the rigorous accreditations it maintains across state, national and international levels to ensure that it is at the forefront of best practices and training.
"Our agency actively works to train our personnel to foster a culture of inclusion and care where every member of our community feels protected and safe," Washington says.
Washington underscored the police department's commitment to transparency and accountability and emphasized that its mission is to serve and protect the entire Vanderbilt community.
A recording of the event is available at vu.edu/avbadialogue.
—MORGAN KROLL