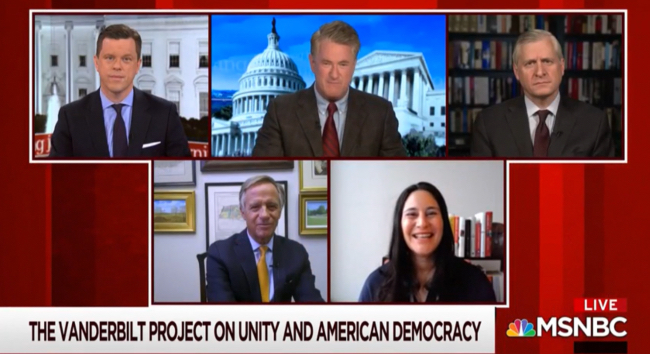 The co-chairs of The Vanderbilt Project on Unity and American Democracy appeared on MSNBC's Morning Joe Feb. 4 to discuss the university's nonpartisan initiative that aims to elevate research and evidence-based reasoning in the national discourse. The project co-chairs—Samar Ali, Gov. Bill Haslam and Jon Meacham—were interviewed by MSNBC hosts Joe Scarborough and Willie Geist, BA'97.
View the full interview at MSNBC.com.
On the concept of unity: "Unity is not unanimity. It is not seeking a kind of policy Valhalla," said Meacham, who holds the Carolyn T. and Robert M. Rogers Chair in the American Presidency at Vanderbilt. "But it is about having enough Americans in common assent to the propositions of the Declaration, the propositions of the Constitution, and to facts and evidence. And that last one is really important because we're living in an era where too many of us decide before we ever encounter reality what that reality is going to be.
"That begins to fracture a democratic—lower case 'd'—republic, because a democratic republic depends on our capacity to use reason, to at least take a stand against passion, against our appetites and our ambitions," Meacham said.
On the information marketplace's influence on polarization: "Today is a different time (with) the impact of social media … the ability to choose your own news," said Haslam, former Republican governor of Tennessee. "Not only do we disagree with the other side, but we're mad about it, and we think the other side has bad motives."
Haslam cited the advice of his political mentor, former Senate Majority Leader Howard Baker, who was known as the "Great Conciliator" for his success in terms of brokering compromises, enacting legislation and maintaining civility over the course of his long and storied political career.
"Baker had a saying that he taught all of us who ever came into his orbit," Haslam recalled. "'Always remember the other fellow might be right.' We have lost that today and that beginning proposition that I, at least, want to hear your side. I have principles that I disagree with you on, but I want to hear your side because I realize I could be wrong."
Ali, BS'03, JD'06, said a commitment to hearing one another out must be the rule and not the exception.
"We have to listen to each other, including people that we consider to be the 'other'—people who have been demonized, in some instances, for decades," said Ali, a former White House fellow and research professor of political science and law at Vanderbilt. "We're deeply polarized right now, and we have to understand the root causes for that polarization. But we're not going to be able to do that unless we actually listen to each other."
(Ali further discussed The Vanderbilt Project on Unity and American Democracy and its goals in an interview with The Tennessean this week.)
Meacham, a Pulitzer Prize-winning presidential historian, said the nation has been divided many times in the past, but there is much reason to hope it can be repaired again as part of our constant pursuit of a more perfect union. But unity doesn't simply mean giving in to the other side, he said.
"That's not what compromise—that's not what unity—is. It's believing that the public square can be governed by fact. We can assess the problems of our time, come up with solutions, and that politics fundamentally should be about the mediation of differences, not about forever fighting total wars," he said.
Vanderbilt launched the project prior to President Joe Biden's inauguration with conversations featuring former Vice President Al Gore and former Secretary of State Condoleezza Rice on charting a path toward unity by examining historical evidence. The project also launched with a series of research-based essays from Vanderbilt professors Vanessa Beasley, Joshua Clinton, Michael Eric Dyson, Eunji Kim and David E. Lewis.
To learn more about The Vanderbilt Project on Unity and American Democracy and its work, visit vanderbilt.edu/unity.