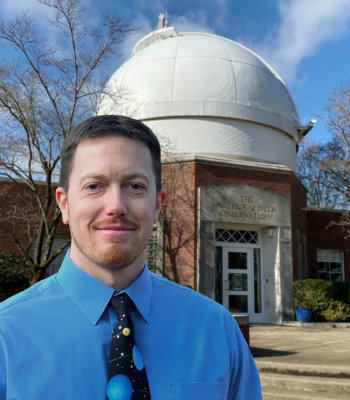 Billy Teets has been promoted to director of Vanderbilt Dyer Observatory, a position he has held on an interim basis since July 1, 2020.
Teets, who has worked at Dyer for more than 14 years, is taking the helm after the retirement of longtime director Rocky Alvey this past summer.
"Billy has enthusiastically contributed to the Dyer legacy in his many roles at the observatory," said Vice Chancellor for Government and Community Relations Nathan Green. "He is the unique person to advance Vanderbilt's mission through community engagement with an academic focus at Dyer. He knows, loves and can lead the observatory into a bright future."
Teets earned a bachelor of science in physics from Austin Peay State University in 2004 and a doctorate in physics with a concentration in astronomy from Vanderbilt in 2012. He began his career at Dyer in 2006, first as a part-time student helper at the encouragement of Vanderbilt Professor of Astronomy David Weintraub, Teets' future doctoral adviser.
Teets has served as outreach astronomer for eight years at Dyer, where his many responsibilities have included maintaining and operating  the observatory's telescopes and equipment, teaching college-level astronomy courses, and serving as a regular speaker for the observatory's public outreach events, camps, workshops and field trips.
"As acting director of Dyer Observatory during the pandemic, Billy has shown resiliency and innovation," said Alfred Degrafinreid, associate vice chancellor for community relations. "I know that Dyer will continue to be one of Vanderbilt's most beloved spaces with continued enhancements to its educational and cultural program offerings under his leadership."
Crowning one of Brentwood's tallest peaks, Dyer Observatory has been treasured by the Nashville community for more than six decades. Dyer was the brainchild of Vanderbilt astronomer Carl K. Seyfert, who is renowned for his discovery of a class of galaxies that still bear his name. Through his tireless efforts, the observatory not only would provide astronomers with the means to conduct groundbreaking research, but it also would return the favor to the community that gave it life by providing students and the public a place to learn about and observe the cosmos—as it continues to do today.
"As so many people have said before, Dyer Observatory is a very special place," Teets said. "It is a great honor and privilege to hold the same position as someone like Professor Seyfert, and I am excited to continue in this rich legacy."