Vanderbilt students, faculty and staff can watch all of the performances at vu.edu/2020gratitude.
Members of the Vanderbilt community joined Grammy-winning musician Jason Isbell and his band, The 400 Unit, and other entertainers for a "show of gratitude" hosted by Chancellor Daniel Diermeier to honor the hard work and dedication shown by staff, faculty and students during this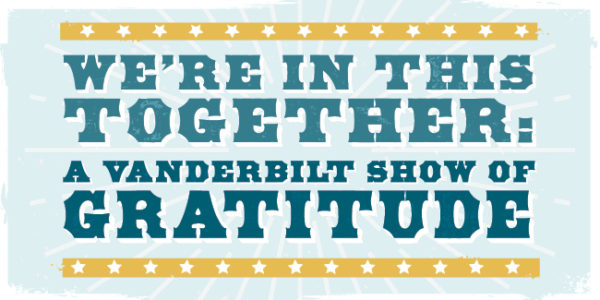 unparalleled year.
"Each member of the One Vanderbilt community has shown tremendous resilience and dedication. Their hard work has paid off, and I look forward to all that we will continue to achieve together," Diermeier said. "This event was a way to say thank you to every member of our community and to offer some much-deserved fun."
The virtual event, "We're in This Together: A Vanderbilt Show of Gratitude," took place the evening of Dec. 17. In addition to Isbell, the entertainers included singer and Vanderbilt alumnus Chris Mann, illusionist Craig Karges and Vanderbilt singing group Melanated A Cappella.
"Even during these challenging times, you're all continuing to work hard," Isbell said. "Vanderbilt has been a great community partner, whether you're talking about education, being on the front lines of fighting COVID-19, music and the arts, research, sports and so much more."
Mann, a 2004 classical voice graduate of the Vanderbilt Blair School of Music, put a Vanderbilt twist on some of his now-famous quarantine song parodies that have garnered millions of views on his YouTube channel and social media.
"Vanderbilt University was a pivotal part of my journey in life," Mann said. "This year I used the skills I learned at Blair in ways I never thought I would, creating parodies when I lost the opportunity to perform otherwise. … I must apologize to the Blair faculty for blaspheming my technique by singing into toilet paper rolls for the world's enjoyment."
Raffle prizes, including Vanderbilt-themed blankets and drink tumblers, were awarded to Vanderbilt community members throughout the show. The winners were randomly selected from faculty, staff and students who had registered for the event.