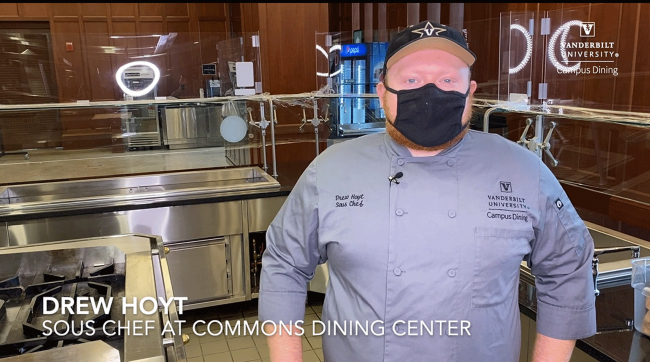 Vanderbilt Campus Dining will relaunch its popular "VU Dining at Home" video series for the extended intersession/winter break period.
The webcasts are short instructional cooking videos that showcase the diverse talents of Campus Dining's culinary team and will feature holiday-inspired dishes, global flavors and the chefs' go-to meals designed to spice up your dinner rotation.
The videos will be posted periodically throughout the intersession period and will be featured on Campus Dining's Instagram and Facebook pages. The series builds on the success of the summer 2020 video cooking series.
"I've enjoyed getting to learn about the various dishes that each of our chefs create for their families at home," said Campus Dining Executive Chef Jordan Rogers. "We have some very talented chefs that we can all learn something new from." Rogers added that students should stay tuned throughout December and January for videos ranging from how to make delicious chili with leftover holiday turkey to how to create tasty sweet potato cookies.
In addition to filming the VU Dining at Home series, the chefs of Campus Dining are hard at work planning for an expanded spring 2021 menu featuring old favorites and many new culinary offerings.  More details will be released in January via Campus Dining's social media channels and on the Campus Dining website.