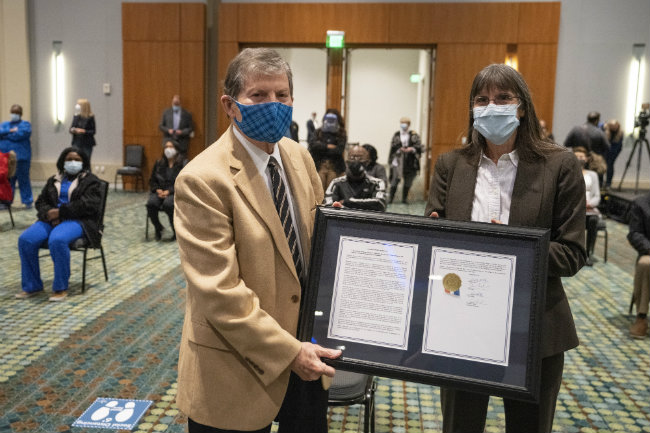 Nashville Metro Council honored Joseph H. Hamilton, Landon C. Garland Distinguished Professor of Physics at Vanderbilt University, on Nov. 5 for his pivotal role in the discovery and naming of chemical element 117, known as "tennessine" on the periodic table of elements.
The resolution commending Hamilton, introduced by At-Large Council Member Burkley Allen, notes that "Hamilton initially proposed the name tennessine to honor the state where three of the research collaborators—Vanderbilt, Oak Ridge National Laboratory and the University of Tennessee—are located."
The name tennessine received final approval by the International Union of Pure and Applied Chemistry in November 2016.
"We are thrilled to recognize Joe Hamilton, a renowned nuclear physicist and Vanderbilt professor, on the four-year anniversary of this significant achievement for the state of Tennessee," Allen said. "He has played an important role in putting Tennessee not only on the map, but also on the periodic table of elements. In fact, Tennessee joins California as only the second state in the nation to receive this lasting recognition."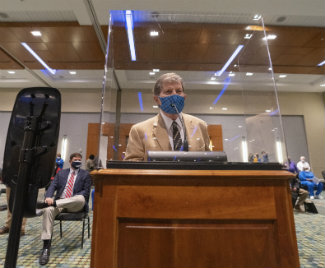 Hamilton, who began teaching at Vanderbilt in 1958, attended the council meeting presentation and expressed deep appreciation for the honor. "It is exciting to know that our state will be recognized in every periodic table of the elements in classrooms and in physics and chemistry textbooks around the world forever," Hamilton said.
The resolution acknowledges that element 117 was made by a fusion reaction of element 20 calcium with element 97 berkelium through an international collaboration that included Hamilton; Vanderbilt Professor of Physics, Emeritus, A.V. Ramayya; and scientists from Oak Ridge National Laboratory; the University of Tennessee-Knoxville; the Joint Institute for Nuclear Research in Russia; and Lawrence Livermore National Laboratory in California.
Element 117 is the second-heaviest element known. According to Hamilton, it provides evidence for the existence of the long-sought "island of stability" in superheavy elements that should possess increased stability and novel physical and chemical properties, with the potential for new technologies—such as compact energy sources.
"We are grateful for this recognition for Professor Hamilton, who initially proposed the name tennessine to pay tribute to our state, where the research occurred," said Alfred Degrafinreid II, associate vice chancellor for community relations, who attended the council presentation. The full text of the resolution honoring Hamilton is available on the Metro Council website.