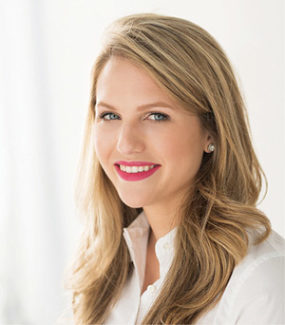 When Julie Babbage, BS'14, arrived on campus as an undergraduate in 2010, she saw attending Vanderbilt as "the opportunity of a lifetime." Determined to have the full Vanderbilt experience, Babbage immersed herself in a wide range of activities—including Vanderbilt Student Government, Vanderbilt Political Review, Student Alumni Board, and Kappa Delta sorority, all while juggling her studies at Peabody College and minoring in Spanish and philosophy.
The chance to connect and collaborate with people from all over the world made her undergraduate years transformative. "What is most special about Vanderbilt are the people you get to be surrounded by every day," says Babbage. "The caliber of thought, leadership and ambition combine to create positive change for the world."
She has made her own positive impact on the world in myriad ways. Babbage began a tradition of giving in her first year—a practice instilled in her by her parents who encouraged her to support causes that are meaningful to her. Soon after graduation, she made a pledge to the Susan Gray School at Peabody that made her the youngest member of the Peabody Roundtable, the College's donor society that provides vital resources to ensure its position as one of the top education programs in the country.
Since graduating she has dedicated time, energy and resources to Vanderbilt. "Giving back can be more than financial," notes Babbage. She has served in various roles including as a Reunion co-chair, G.O.L.D. Class Agent, Senior Class Fund Chair, CoRPs volunteer, and VUconnect career adviser.
Today, Babbage is CEO of the Diabetes Patient Advocacy Coalition, while also working as a lobbyist in Kentucky and Washington, D.C., with bipartisan government affairs firm Babbage Cofounder.
"After four formative years, I don't think the connection to the university needs to stop on graduation day," says Babbage. "For me, Vanderbilt is about being part of something bigger than myself."