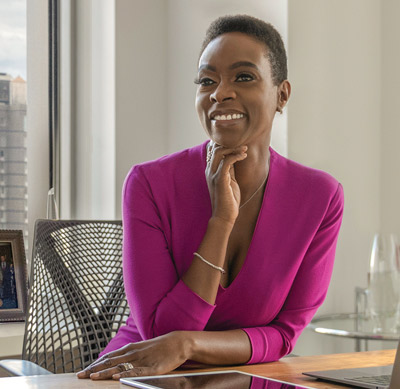 As a newly minted freshman, Monique Nelson-Nwachuku was focused on a career in medicine. Then came Biology 101, or as Nelson calls it, the weed-out course.
"It was the first time I failed anything in my life," she says. "That got me to thinking that science may not be my path, which led me to a totally different career."
Nelson-Nwachuku, winner of Vanderbilt's 2020 Alumni Professional Achievement Award, is chairman and CEO of UniWorld Group, the country's longest-standing multicultural marketing agency.
Nelson-Nwachuku came to Vanderbilt as a Posse Scholar, a nationwide program for students with extraordinary leadership potential, and she continues to be involved. She helped found Posse's Chicago chapter in 2000 and currently sits on the New York advisory board.
She calls her Vanderbilt years some of the best in her life. "I felt really welcome and learned a lot," she says. "I also developed a love for country music and line dancing. As a Posse Scholar, I was proud to be a stepping stone for the campus becoming a more diverse, inclusive environment."
After graduation, a management training position at International Paper gave her a strong grounding in business. In 1999, Nelson-Nwachuku joined Motorola as global lead for entertainment marketing, giving her a unique perspective as the company pivoted from being a tech leader for industry to the consumer market.
"With that position, I traveled the world and lived in Asia and Latin America," she says. "I felt like a cultural anthropologist learning what motivates people and why." That perspective brought her to UWG in 2007 as head of brand integration and entertainment. She bought the agency in 2012.
Today she feels that the worldwide pandemic plus social upheaval make UWG, with its unicultural focus, distinctively relevant.
"For the first time in our lives, the world is impacted by the same thing at the same time," Nelson-Nwachuku says. "We can see that these are everybody's problems. That perspective heightens our acuity and suddenly we all can see that there are many issues that need work. Now there's nothing that can't be reimagined."