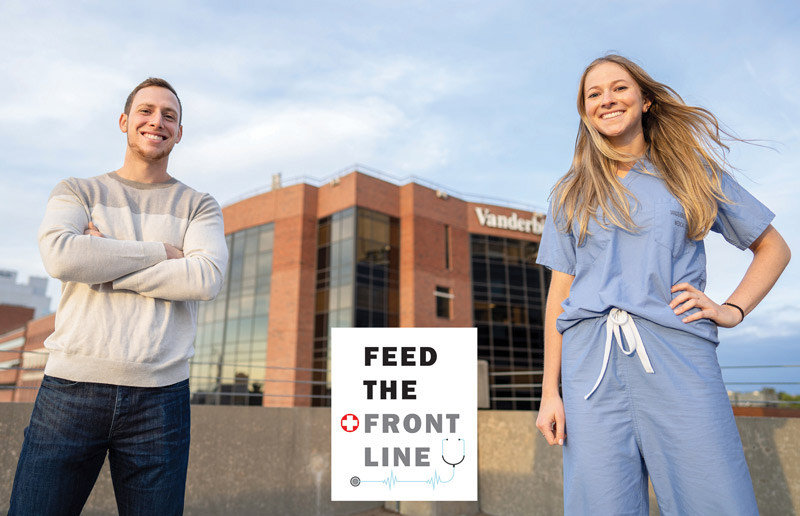 Front-Line Meals
Last spring, as thousands of health care employees worked tirelessly to do good in the wake of COVID-19, Houston native Ben Schecter and several Vanderbilt friends chose to go above and beyond to show their gratitude to those on the front lines of the coronavirus fight.
After seeing similar initiatives throughout the country, Schecter decided on a model that would help struggling local restaurants and serve health care workers at the same time. Thus was born Feed the Front Line, a nonprofit organization that uses funding to buy and donate meals.
"Throughout college I had a long-term goal of somehow using my career and interests to help people, and this is the first opportunity I've had to truly step up," Schecter says.
Schecter's Texas operation soon gained momentum and expanded to a second base located in Nashville. Vanderbilt alumna and second-year medical student Allie Golden runs the Nashville branch. After Vanderbilt's transition to online learning, Golden was unable to continue working in the hospital, but she wanted to support the medical community that surrounded her.
"It hit really close to home having done my clinicals in the hospital and being in a position with health care workers," Golden says. "After living in Nashville for six years now, and seeing small businesses struggling after the tornado and then COVID-19, this was a great way for me to give back."
In only a few weeks, Feed the Front Line was able to reach an impressive number of people and continues to experience growth.
"At this point, we have raised more than $1 million and delivered close to 100,000 meals nationwide," Schecter says. "In Nashville we have delivered more than 10,000 meals and raised over $100,000."
This spring, at the height of operations, Feed the Front Line was active in Nashville, Chicago, Houston, Dallas-Fort Worth; Charlotte, North Carolina; and the state of Kentucky. Schecter attributes the organization's success to the support he's received from his friends and the Vanderbilt community.
"I never could have started this without the great people I know from Vanderbilt and Nashville—the school really inspires an attitude of going in and doing something impactful and meaningful," Schecter says. "Everyone in our Vanderbilt network has been so helpful and generous, which is really a testament to Vanderbilt as a special place."
—Sahanya Bhaktaram
To start a Feed the Front Line branch in your own community, visit ftfl.org or email hello@ftfl.org.
Sahanya Bhaktaram is deputy life editor of The Vanderbilt Hustler, where a version of this article first appeared April 19, 2020.