Media Inquiries
Latest Stories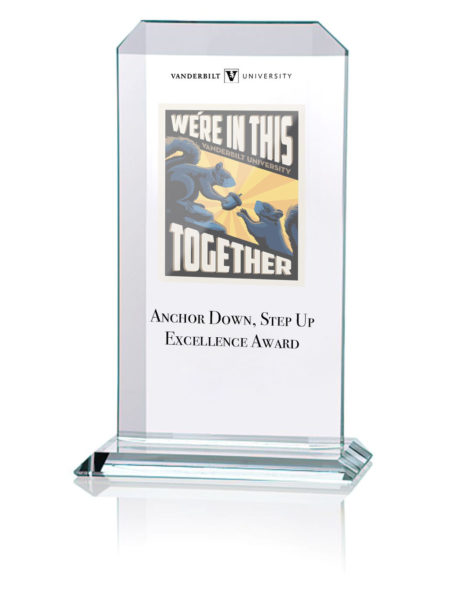 During the inaugural Fall Staff Assembly on Oct. 22, Chancellor Daniel Diermeier presented Anchor Down, Step Up Excellence Awards to recognize exceptional staff members and teams who have gone above and beyond to protect the Vanderbilt community and foster innovation since the start of the COVID-19 pandemic. Nine individuals and 10 teams were honored.
"Clearly, there are so many contributions to celebrate—our pandemic response is truly a One Vanderbilt effort and we are all in this together," Diermeier said. "The individuals and teams we are recognizing today represent just a handful of the hundreds of staff members who continue to make this unprecedented semester possible."
Anchor Down, Step Up Excellence Award Recipients
Exceptional Individuals:
Triketta Brooks, Campus Dining
In addition to her many responsibilities in the kitchen, Brooks has eagerly stepped up as an internal COVID ambassador. She has become a trusted expert on health and safety initiatives in Campus Dining and beyond. Brooks has worked hard to educate dining guests on new circulation plans while also encouraging physical distancing among guests and co-workers.
Jessamyn Davis, Office of Emergency Preparedness, Vanderbilt University Public Safety
Davis led the cross-functional team that developed the symptom monitoring features of the VandySafe app. She was selected to serve as a key member of the Public Health Central Command Center, in addition to her responsibilities as Vanderbilt's fire safety coordinator.
Kelli Fager, Purchasing and Payment Services
Fager has provided model leadership in preparing all areas of campus to handle safely the COVID-19 outbreak. Her contributions have led to timely and cost-effective procurements and deployments of protective gear, plexiglass barriers in classrooms and dining areas, hotel rooms for student isolation spaces, and testing kits for returning students. She has been flexible and supportive in her role with this critical team.
Andrea George, Environmental Health and Safety, Sustainability and Environmental Management Office
George has been a key player in the university's response to the pandemic. She was the first person to take the lead on testing and dealing with positive cases even as Nashville and the state of Tennessee were still ramping up their response capabilities.  She has gone far beyond her role, from developing contact tracing protocols to launching the Vanderbilt Public Health Central Command Center.
Shaneithia Lewis, Vanderbilt University Police Department
Lewis has been instrumental to many parts of campus life. In addition to managing the initial Public Health AmbassaDores program, she developed a form for the security PHA members to streamline the university's COVID-19 response systems. Throughout the planning process for students' return to campus, she helped identify high-traffic areas and remedied issues in and around Rand and The Martha Rivers Ingram Commons—both key hubs of campus.
Carmen Marks, Vanderbilt University Police Department
Vanderbilt's ability to provide efficient and ongoing testing for COVID-19 has been a critical factor in enabling our safe return to campus. Through her role in overseeing the campus testing center, Marks has worked tirelessly to ensure that the center operates smoothly. She provides daily reports to university leadership and demonstrates great care in responding to the needs of students.
Chris Meyers, Law School
In preparation for Return to Campus, Meyers worked hard to set up buildings and reorganize law classrooms. From determining pathways and signage to producing video content that inform students, he has helped many people navigate at the Law School and beyond. His colleagues credit him as being central to the Law School's ability to hold in-person classes this fall. In addition, Meyers worked with his staff to administer the Law School Hardship Fund this semester.
Randy Tarkington, Housing and Residential Experience
Tarkington has been involved in many projects in response to COVID-19—from contact tracing, to environmental design, to quarantine and isolation systems for students. He has worked tirelessly with campus partners to build and support a testing program that has proven very effective in helping Vanderbilt maintain low positivity rates. Since students returned to campus, he has worked 16-hour days, seven days a week, directly with students, to implement protocols and help students navigate many challenges.
Alison Matarese, Housing and Residential Experience
In the spring, Matarese organized a housing and assignment process for students who were unable to leave campus, focusing on their comfort, health and safety. She also oversaw the process for first-year and upper division housing assignments, as well as the systems surrounding fall move-in. At every phase, she has maintained compliance with campus safety protocols.
Exceptional Teams
Schools/Colleges Team
Aaron Covey, College of Arts and Science; Bryn Evans, School of Nursing; Ginger Hitts, College of Arts and Science; Janet Roberts, Peabody College of education and human development; Barry Templeton, School of Engineering; John Thorpe, Owen Graduate School of Management.
These staff members localized the university's health and safety protocols to meet the needs of the students, faculty and staff within their schools. They posted signage to direct foot traffic in buildings, measured rooms and spaces for physical distancing protocols, and moved furniture in classrooms and shared spaces.
Center for Teaching Team
Erica Brandon, Brandon Crawford, Stacey Johnson and Paige Snay.
This group implemented our Brightspace technology and guided Vanderbilt's overall transition to remote instruction in March. With two days' notice, they created and delivered in-person and virtual training sessions for our faculty, many of whom had never before taught remotely. Since March, they have maintained strong levels of engagement, while also finding new ways to improve upon our online systems. They have co-led a new Online Course Design Institute, implemented complex instructional tools and served as the face of adaptive teaching at Vanderbilt.
Campus Circulation and Daily Operations (Facilities) Team
Matthew Buckley; Lamar Cumings; Dylon Daugherty; Kurtis Eisenhuth; Chris Preston; Megan Sargent; and Cory Scheffler.
From planning to implementation, the Campus Circulation and Daily Operations team took a lead role in preparing the campus. They developed the building protocols, circulation patterns, wayfinding methods and disinfecting procedures for belongings and facilities that have been instrumental in helping the university community navigate a safe return.
Campus Dining Team
Aaron Dilts, Michael Ferral, Gayle Hanson and Donald Jackson.
When many students left campus in March, this team worked tirelessly to ensure that those students who remained on campus had three warm, nutritious meals each day. They also rallied their teams to prepare enough meals to serve the Facilities and Public Safety staff members who were performing essential duties on campus. These individuals spent countless hours walking locations, implementing new circulation plans, adjusting menus, launching new to-go meal programs and much more.
"Ghostbusters" Disinfecting Team (Custodial Services)
Jenenia Keeler, John Knox, Derrick Radney, Nelson Rutledge, Shanda Scales and James Strain.
The housekeeping team has been working nonstop to regularly disinfect more than three million square feet of campus buildings—including every type of space imaginable. Often carrying around packs of disinfectant, they have earned the nickname the "Ghostbusters" for their work to keep us as safe as possible here on campus. They each received specialized training for this assignment, and we are grateful to them for the dedication, pride and professionalism they each bring to their work.
Communications COVID-19 Team Leaders
Kate Derrick, Daniel Dubois, Zack Eagles, Beth Fox, Lauren Hammond, Katherine Keith, Catherine Kozak, Princine Lewis and Lacy Paschal.
From engaging the campus community by creating and executing the innovative Anchor Down. Step Up. campaign, to developing and constantly adapting our Return to Campus website, dashboard and newsletter, to producing and creating videos, stories, social media content and countless emails and webinars to keep our community informed and connected, this team and their colleagues made sure the university had the information it needed, when it needed it. Thanks to their leadership, effort and expertise, Vanderbilt Communications set the bar for colleges and universities nationally in COVID-19 response communications and have been essential to the university's successful management of the pandemic.
Vanderbit Public Health Central Command Center Team
David Brown, Global Education Officer; Alycia Buford-Penn, Finance; Meagen Crawford, Office of Active Citizenship and Service; Kenneth Garner, Finance; Steve Gild, Sustainability and Environmental Management Office; Chelsea Hamilton, Sustainability and Environmental Management Office; Anaya Langford, Finance; Melissa Looby, Office of Active Citizenship and Service; Kristen Maida, Nursing; Ashley Majewski, Office of the Vice Chancellor for Administration; Hannah Proctor, Nursing; Katelyn Slotnick, Global Education Office; Tyler Walker, Global Education Office.
These 13 staff members from across the university help to coordinate university testing strategies, contact tracing and support for individuals who have tested positive or been exposed to COVID-19. Many of these individuals have been working seven days a week since the spring—managing data and collaborating with campus partners, including the Office of the Dean of Students, to provide critical resources for those learning, living and working at Vanderbilt. In addition to these staff and their colleagues, the nursing faculty and students led by Senior Associate Dean for Clinical and Community Partnerships Pam Jones have been essential partners and team members.
Undergraduate Student Orientation (Residential Colleges) Team
Natalee Erb, Marissa McGillis and Roshaunda Ross-Orta.
This year, the group faced the unique challenge of engaging in an early-spring planning process for an unpredictable fall semester in the midst of a global pandemic. Moreover, they were tasked with moving their new student orientation process and peer mentoring programs – which they had only recently redesigned – to a user-friendly online platform. They rapidly mobilized: researching creative options, developing curriculum with faculty leaders and communicating all changes to student peer mentors. This group's efforts enabled Vanderbilt students to embark with enthusiasm on a school year that held many unknowns.
University Registrar's Office Team
Laura Adams, Matt King, Melissa Mukahal, Kristin Marie Geddis Stone and Molly Thompson.
Over the last few months, these individuals have managed complex and sudden changes to the academic calendar with impressive collaboration and organization. In addition to rebuilding the entire fall 2020 calendar for each of our ten schools and colleges, this team has managed revisions to the registration process and adjusted all offerings for the summer 2020 schedule. They are currently hard at work on our calendar for the spring. Throughout many efforts and tight deadlines, they have provided outstanding service to our students and faculty—going above and beyond to support our core academic mission.
VUIT Classroom Technology Team
B.C. Hatchett, Jake Kasinger and Kelly McGill-Barrett.
By training faculty and equipping classrooms with enhanced technology, this team assured us that we would be able to provide an excellent education to our students, regardless of whether they chose to study remotely or on campus. This summer the team worked swiftly to perform a much higher workload than usual. They equipped 78 classrooms with enhanced audio-visual packages—more than double the amount of spaces they would typically need to address under less unusual circumstances.
---
Diermeier surprised Vice Chancellor Eric Kopstain, who had introduced the chancellor at the start of the Fall Staff Assembly, with the final award.
"Since the pandemic, and even long before, Eric has worked around the clock, seven days a week,' Diermeier said. "Many people, myself included, think of him as the mayor of Vanderbilt. There are rumors that he even slept on the couch in his office some nights, waking up early the next morning to tackle the next day's work.
"He has managed complex projects, while never losing sight of the people behind those projects. His unflagging energy, positivity, patience and compassion inspire all who work with him. He has put the safety of our community first, while also upholding our mission: to provide an empowering education."
At the Spring Staff Assembly next semester, Diermeier will present the Commodore Award and the Diversity Leadership Award, and there are plans to launch a new series of annual awards to recognize staff excellence.