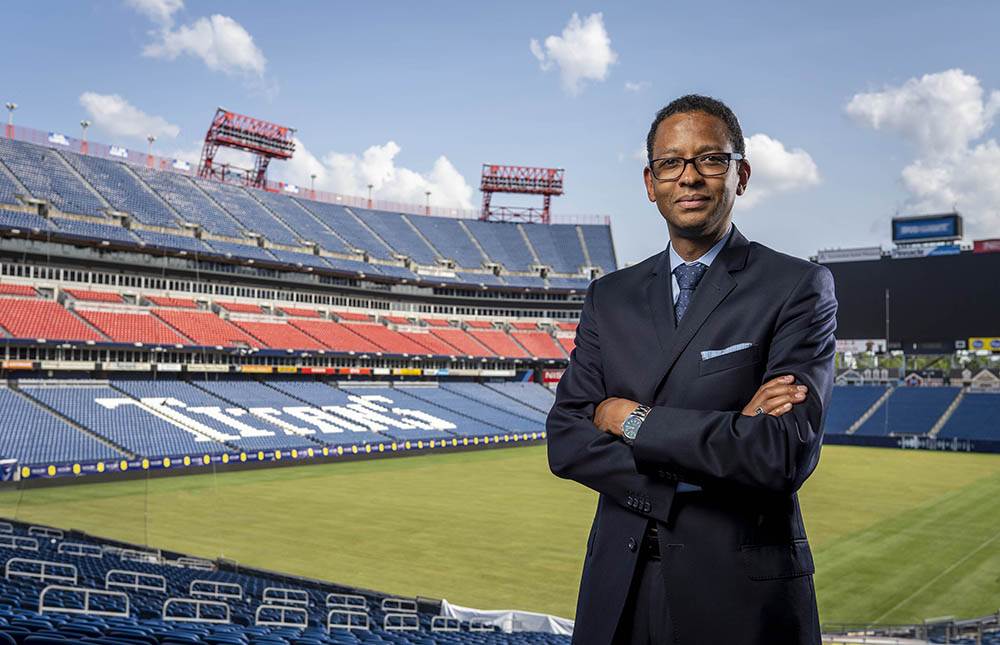 Adolpho Birch's decision to move back to his hometown of Nashville this summer was advantageous for the community in more ways than one. For the Tennessee Titans, it meant one of the National Football League's more seasoned executives, who had spent two decades in the league's New York headquarters, would be joining the front office as the new chief legal officer and senior vice president of business affairs. For Vanderbilt, it meant even more access to a law school alumnus and Board of Trust member with valuable insight into issues of diversity and inclusion, just as a nationwide push for more racial justice was underway—a cause that no doubt would have resonated with Birch's late father, A.A. Birch Jr., the first African American chief justice of the Tennessee Supreme Court, and late mother, Dr. Janet W. Birch, a longtime professor at Meharry Medical College and community activist.
In July, Birch was named chair of a new Board of Trust ad hoc committee that is partnering with university leadership to evaluate and recommend policies around equity, diversity and inclusion. Here Vanderbilt Magazine talks with him about the work of the committee, the rise in athlete activism, and his favorite Nashville sports memory.
When you envision a Vanderbilt that commits itself to doing the work of diversity and racial justice better than it ever has before, what do you see?
A fair part of our Board of Trust committee's charge will be to work with leadership and the community to identify barriers and help to shape more equitable and inclusive processes. Fostering an inclusive environment will require us to understand, embrace and celebrate our differences. Once this is accomplished through trainings and other initiatives and programs, I can imagine a number of ways in which the campus experience may reflect those efforts over time, but hopefully we will be able to see the impact beyond the campus community as well.
What is the role of universities at a time when racial tensions are on the rise across the country? And what special obligations and opportunities does Vanderbilt have to lead on these issues, given Nashville's historical importance in the civil rights struggle?
A central role of a university is to articulate and instill in its students the principles that will allow them to become moral and ethical leaders. Doing so necessitates that we make clear our position on matters of civic importance, including racial and social justice.
Vanderbilt has the obligation and privilege of leadership, to recognize both its historic role and its opportunity to shape the future. Nashville provides Vanderbilt with not only a wealth of history upon which to draw for perspective and guidance but also a unique chance to work with HBCUs [historically Black colleges and universities] and other institutions dedicated to supporting civil rights and fighting social and racial injustice.
Given your experience with the NFL and now with the Titans, why do you think we've seen this resurgence in athlete activism over the last few years?
Professional and collegiate athletes have long been advocating for underrepresented communities. The more recent coupling of that advocacy with increased activism makes me hopeful that we are on the brink of lasting and meaningful change. Today's athletes—and people generally—have at their disposal social media platforms that were unimaginable just five years ago, and I applaud their energy, focus and enthusiasm in using those platforms to drive progress.
Who are the voices you admire in politics, higher education and sports?
I admire most people who have committed themselves to addressing diversity and racial justice, but some whose voices and actions have resonated with me over the years include former first lady Michelle Obama, the late Pittsburgh Steelers executive Dan Rooney, the late civil rights leader and congressman John Lewis, the late Tennessee State University track coach Ed Temple, NBA Hall of Famer Bill Russell, Judge Thomas Wiseman, and the late Vanderbilt athletic director David Williams, together with many, many others.
Vanderbilt is the only Power Five school in the country with a Black athletic director, Black head football coach and Black head men's basketball coach. In what ways is this important?
It is important because it serves as a clear example of how universities can benefit from interrupting societal inclinations and biases and tapping into the exceptional talent base that exists in diverse communities. It is perhaps most significant because it is supported by a history of important steps that make the current arrangement wholly authentic and, in some ways, unremarkable. While the historic import should be acknowledged and celebrated, Candice Storey Lee [BS'00, MEd'02, EdD'12], Jerry Stackhouse and Derek Mason are all exceptional people, and Vanderbilt is more than fortunate to have all three.
Tell us about your new role with the Titans. What are your responsibilities and what do you most hope to accomplish?
My primary role will be to oversee our legal function, ensuring that we have the proper support, counsel, risk management and compliance throughout the organization. I also will have principal responsibility for managing the club's federal, state and local government relationships. But, in a broader sense, I view my role as drawing on my experience at the league office and relationships in the city and state to be part of an outstanding leadership team and help the Titans win on the field and in the community.
You were raised in Nashville. What is your all-time favorite sports memory associated with the city?
Excluding my tennis team's wins at Father Ryan High School in the early '80s, I would definitely say the "Music City Miracle." I was, in fact, present and saw it firsthand, and the level of excitement and energy was extraordinary. Aside from the Miracle, I would probably say the 2019 NFL Draft for how Nashville represented itself.
Adolpho Birch was interviewed by Vanderbilt Athletics' Visiting Author Andrew Maraniss, BA'92.