Visit the Faculty Senate's Fall Faculty Assembly webpage to watch a full recording of the event. >>
Chancellor Daniel Diermeier expressed gratitude to the entire Vanderbilt community during his inaugural Fall Faculty Assembly address for "a tremendous, enormous, monumental effort" to return students and faculty to campus safely during a global pandemic.
The milestone virtual faculty assembly on Aug. 27 served to uphold the annual fall semester tradition and celebrate Vanderbilt's faculty members while also observing the health and safety protocols in place for this historic semester.
The 2020-21 Faculty Senate Chair Catherine McTamaney, associate professor of the practice of education at Peabody College, welcomed the online audience. She noted that while faculty have spent many months planning for the start of the semester, they also "look forward to connecting with new students and colleagues, and to making an impact with our work."
"The Return to Campus plan was not an easy path," Diermeier said. "But we believe in the power of a residential college model for transformative education for our students, as well as in the field-defining research in our laboratories. Discovery has become more important than ever as our scientists work overtime to develop vaccines and therapeutics to deal with the COVID-19 crisis."
Diermeier praised Vanderbilt students for stepping up to their responsibilities. "I have visited classrooms in the past week, and students are present and engaged," he said. "So far, we are very pleased. However, this will require a continued and sustained effort, as well as the ability and commitment for all of us to continue to adapt and learn."
Diermeier pledged that Vanderbilt would continue to invest in faculty and their research. "It's very important that as we deal with the current pandemic-related challenges, we do not lose track of planning for the university's long-term future."
He thanked Nicholas S. Zeppos, Cornelius Vanderbilt Chancellor Emeritus, and Susan R. Wente, provost and former interim chancellor, for their responsible financial stewardship. "We were able to avoid some of the more drastic measures, including the mass layoffs and furloughs that occurred at some institutions," Diermeier said. "We now have the opportunity to think about how we want to move forward with new investments in research and faculty, and we intend to do so."
He plans to continue his frequent conversations with department chairs, individual faculty, institute directors and many others across campus.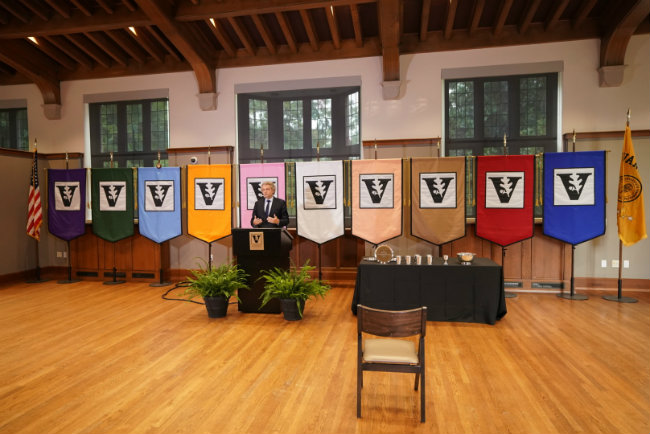 Diermeier also discussed the commitment that he made on his first day as chancellor to build a more inclusive Vanderbilt. "The process must be collaborative, thoughtful and based on evidence," he said. Among the early steps, a new Board of Trust ad hoc committee will partner with university leadership to evaluate and recommend policies around equity, diversity and inclusion. In addition, the university launched a new web portal, Inclusion at Vanderbilt, this week to share key equity, diversity and inclusion resources and activities with faculty, staff and students.
Diermeier concluded his remarks by noting that while COVID-19 will continue to bring unprecedented challenges, it also reminds the Vanderbilt community of the importance of its mission to transform the lives of students and improve the world through research. "I'm confident that we will get through as one community and one Vanderbilt," he said.
Faculty receiving 25 years of service awards were recognized. Diermeier was joined by McTamaney for the virtual awarding of the 2020 spring and fall faculty awards.
McTamaney provided the event's closing remarks, encouraging faculty to stay engaged with the Faculty Senate, which now holds its meetings virtually.