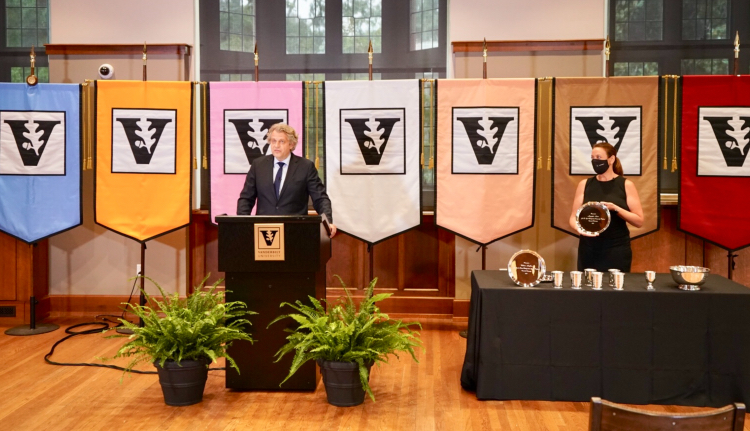 Chancellor Daniel Diermeier and Faculty Senate Chair Catherine McTamaney presented faculty awards for both spring and fall 2020 as part of the virtual faculty assembly held Aug. 27.
The awards recognize teaching, research, service and commitment to diversity, and recipients are honored for their contributions and commitment to the university.
Spring 2020 faculty award recipients
Celia Applegate, William R. Kenan Jr. Professor of History, is the winner of the Madison Sarratt Prize for Excellence in Undergraduate Teaching, which recognizes exceptional classroom teaching and demonstrated commitment to student learning. "Celia was nominated by her students, who commended her ability to make facts and history come to life," Diermeier said. "They also noted the depth of Celia's feedback on assignments as well as her overall dedication to the university." Applegate earned her doctorate from Stanford University and joined Vanderbilt in 2012. She teaches a variety of courses among her appointments in History, the Blair School of Music and German, Russian and European Studies.
Alissa Hare, senior lecturer in chemistry, is the winner of the Ellen Gregg Ingalls Award for Excellence in Classroom Teaching, endowed by the Ingalls Foundation and recognizing exemplary teaching. "Alissa was nominated by her students, many of whom praised her approachability and genuine care for them and their success," Diermeier said. Hare earned her doctorate from Yale University and joined the Vanderbilt faculty in 2015. She is the co-principal investigator for the Vanderbilt Research Experience for Undergraduates in Chemical Biology, a hands-on course introducing students to the research process.
Christopher Slogobin, Milton R. Underwood Professor of Law and professor of psychiatry and behavorial sciences, is the winner of the Harvie Branscomb Distinguished Professor Award. Paying tribute to Vanderbilt's fourth chancellor, the award recognizes creative research and teaching and service to students, colleagues and society at large. "Chris Slogobin is among the nation's leading scholars of criminal procedure, mental health law and juvenile justice," Diermeier said. "He has continually advocated for society's most vulnerable members, impacting many lives." Slobogin, who joined the Vanderbilt faculty in 2008, earned his juris doctor and master of laws from the University of Virginia Law School. He has taken a leadership role in drafting model statutes to govern policing; in addressing issues of mental disability and the death penalty; and in advocating for protection of privacy in the modern age.
William Schaffner, professor of health policy, is the winner of the Alexander Heard Distinguished Service Professor Award. The award honors Vanderbilt's fifth chancellor and recognizes scholarship that solves an important social problem. "William has made a profound impact on our society, from creating new epidemiological science to translating those findings into progressive national health policy to eloquently communicating them to a range of audiences through television, radio and mass media," Diermeier said. A graduate of Cornell University Medical College, Schaffner completed his residency training and a fellowship at Vanderbilt. He joined the faculty in 1968 and received the Branscomb Award in 2010.
Marybeth Shinn, professor of human, organizational and community development and Cornelius Vanderbilt Chair, is the winner of the Joe B. Wyatt Distinguished University Professor Award. Established in honor of Vanderbilt's sixth chancellor, the award recognizes significant discoveries that bridge multiple academic disciplines. "Beth's work draws on theory and methods from anthropology, economics, psychology and sociology to address the issue of family homelessness," Diermeier said. "Her longitudinal studies have had a significant impact of how cities seek to aid families and the lives of at-risk children." She earned her doctorate from the University of Michigan, joining the Vanderbilt faculty in 2008. Shinn recently co-authored In the Midst of Plenty: Homelessness and What to Do About It.
Lucius Outlaw, professor of philosophy, is the winner of the Joseph A. Johnson, Jr. Distinguished Leadership Professor Award, named in honor of the first African American to earn an undergraduate and doctoral degree at Vanderbilt. The award goes to a faculty member who has proactively nurtured an academic environment where everyone feels valued and diversity is celebrated. "Lou not only contested exclusionary practices, he has also supported, guided and inspired the people who grapple with and endure these exclusions," Diermeier said. Outlaw graduated from Fisk University before earning his doctorate from Boston College. He came to Vanderbilt in 2000, leading the African American Studies Program for three years before serving as associate provost for undergraduate education for eight years.
Each award winner received $5,000 and an engraved pewter cup (Sarratt and Ingalls) or silver tray (Branscomb, Heard, Wyatt and Johnson) to commemorate the faculty members' achievements.
Fall 2020 faculty award recipients
The Chancellor's Award for Research recognizes excellence in works published or presented in the last three calendar years. Each recipient is honored with a cash prize of $2,000 and an engraved julep cup.
Jessica Clarke, professor of law, was honored for her article, "They, Them and Theirs," published in the Harvard Law Review in 2018. "Her groundbreaking work explores how the law can recognize nonbinary gender identities through the innovative use of familiar civil rights concepts," Diermeier said. "Her research also presents practical implications for gender regulation and enforcement and significant insights into anti-discrimination law more broadly."
Nicole Creanza, assistant professor of biological sciences, was honored for her article, "Correlated Evolution Between Repertoire Size and Song Plasticity Predicts that Sexual Selection on Song Promotes Open-Ended Learning." Diermeier said, "Focusing on the genetics and evolution of bird songs, Nicole's novel work explores how the evolutionary pressures on a learned behavior can indirectly drive the evolution of the brain. Published in eLife, Nicole's 2019 article was praised by editors for changing how we think about a fundamental behavior."
Jennifer Fay, professor of cinema and media arts and professor of English, was honored for her book, Inhospitable World: Cinema in the Time of the Anthropocene, which explores the ability for contemporary media to address and amend damage to our social fabrics. "This ambitious work has been heralded as an example of film scholarship and cultural criticism with utmost relevance," Diermeier said.
Jonathan Metzl, Frederick B. Rentschler II Professor of Sociology and Psychiatry and professor of medicine, health and society, was honored for his book, Dying of Whiteness: How the Politics of Racial Resentment is Killing America's Heartland.  "Jonathan's book explores the relations between health policies, illness and mortality in white middle-class America while also tackling themes of white privilege and racial resentment," Diermeier said. "The book recently received the Robert F. Kennedy Book Award."
Cynthia Reinhart-King, Cornelius Vanderbilt Professor of Biomedical Engineering, was honored for her article, "Energetic Regulation of Coordinated Leader-Follower Dynamics During Collective Invasion of Breast Cancer Cells." Diermeier said, "By exploring the role of energy during cell migration, Cindy's cutting-edge work opens the door to new third-party options to target cancer metastasis. She was recently awarded a three-year, $1 million grant from the prestigious W.M. Keck Foundation."
Three faculty members received the Chancellor's Award for Research on Equity, Diversity and Inclusion. This award recognizes excellence in research, scholarship or creative expression that specifically advances our understanding of equity, diversity and inclusion. Each recipient receives a cash prize of $2,000 and an engraved pewter julep cup.
Melinda C. Aldrich, assistant professor of medicine, and Jeffrey Blume, professor of biostatistics, were honored for their article, "Evaluation of USPSTF Lung Cancer Screening Guidelines Among African American Adult Smokers," published in the Journal of the American Medical Association. "Melinda and Jeffrey found a striking racial disparity in the national guidelines for screening for lung cancer," Diermeier said. "Already their work is producing changes in these guidelines and has spurred meaningful progress surrounding equity in the delivery of cancer care."
Velma McBride Murry, University Professor, Lois Autrey Betts Professor of Human and Organizational Development and professor of health policy, was honored for her article, "The Pathways for African American Success: Does Delivery Platform Matter in the Prevention of HIV Risk Vulnerability Among Youth," published in the Journal of Adolescent Health. "Her revolutionary findings point to the efficacy of technological methods and this rating, HIV-related risk behavior, pointing to increased accessibility to critical information."
The Thomas Jefferson Award for Distinguished Service to the University is given annually to a professor who has shown service to Vanderbilt through contributions in the university's councils and governments. The award is accompanied by $5,000 and an engraved goblet. Geoffrey Fleming, professor of pediatrics, is this year's honoree. "In addition to serving as chair of the Faculty Senate, Geoffrey has contributed to many committees and initiatives," Diermeier said. "Topics he has focused on include equity, diversity and inclusion, the Faculty Manual and our community's well-being and mental health."
The Earl Sutherland Prize for Achievement in Research is Vanderbilt's most prestigious faculty honor for achievement in research. This award honors a faculty member who has garnered significant critical recognition on a national or global scale. The award is accompanied by a cash prize of $10,000 and an engraved pewter julep cup. The winner's name is added to a silver bowl following a famous design by Paul Revere.
James E. Crowe Jr., Ann Scott Carell Professor of Pediatrics and Pathology, Microbiology and Immunology, is this year's honoree. He also serves as director of the Vanderbilt Vaccine Center. "Throughout his 25 years at Vanderbilt, Jim has solidified his impact as one of the world's leading experts on the molecular basis for human immunity to viruses," Diermeier said. "In recent months, his lab has been a leader in identifying a vaccine for COVID-19."
In addition, members of the faculty with 25 consecutive years of service were recognized and will receive a chair with the Vanderbilt logo and a brass plate engraved with their name.
The spring awards were presented this fall due to the cancelation of last spring's faculty assembly due to the COVID-19 pandemic.