Media Inquiries
Latest Stories
Incoming first-year, transfer and Next Steps students were welcomed into the Vanderbilt community on Aug. 23 during Founders Walk, an annual event that marks the start of the academic year as well as the students' time at the university.
Founders Walk traditionally features a processional by students and faculty from The Martha Rivers Ingram Commons across the 21st Avenue pedestrian bridge to a ceremony on Alumni Lawn. This year's event was held virtually in observance of physical distancing protocols due to COVID-19. New students as well as their parents and family members were invited to watch online a series of video messages by campus leaders with a live introduction and conclusion by Vanessa Beasley, vice provost for academic affairs and dean of residential faculty.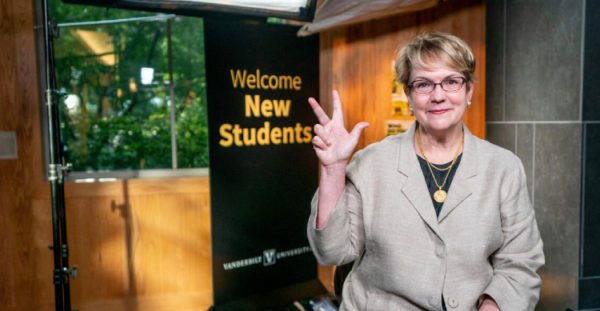 Appearing before a host of campus landmarks, the Founders Walk speakers discussed the unique culture and values that set Vanderbilt apart, and offered advice and well wishes for the year ahead.
"Your experience at Vanderbilt will be guided by our shared and unshakeable belief in the power of human potential. Though so many things about this year will be different from the past, what will not be different are the goals of your educational journey—a journey that has been traveled by generations of Vanderbilt students before you," Chancellor Daniel Diermeier said.
"Seize this time and enjoy each moment, for this is the time in your life to invest, fully and completely, in your growth and development. This is the time for each of us, as Commodores, to Anchor Down and Step Up, to make a difference in support of one another and the entire Vanderbilt community. Let's make this year one that we will all look back on as our proudest moment," he said.
Provost and Vice Chancellor for Academic Affairs Susan R. Wente noted that, though Founders Walk was being conducted differently this year, the event was infused with as much enthusiasm as ever.
"I hope you know that—on behalf of our entire community—we could not be more excited for you join us," Wente said. "We might not be walking on a physical path, but I hope you will still take a minute to envision your own road ahead. This moment, at the beginning of your time at Vanderbilt, will shape the rest of your life."
Melissa Gresalfi, dean of The Ingram Commons, implored students to consider "the person you mean to be"—also the title of this year's Commons Reading by author Dolly Chugh—to explore self-identity and participate in shared experiences that will benefit the common good.
"We cannot operate under our same model of individualism—we must focus on the collective," Gresalfi said. "For example, in wearing masks, we protect not only ourselves, but others. In examining our own behavior, we seek not just to become a better person, but to work towards a better society.
"Here at Vanderbilt, you have many opportunities to challenge yourself—to become 'The Person You Mean to Be,'" she said.
Through slides featuring facts and photos, Gresalfi introduced the 10 faculty heads of house who will live in community with first-year students on The Ingram Commons.
Other speakers at Founders Walk included Veer Shah, president of Vanderbilt Student Government, and Tim Warnock, president of the Vanderbilt Alumni Association.
The event concluded with a performance of the Vanderbilt alma mater by the student a cappella group Melanated, followed by an invitation for new students to participate in the Vanderbilt Community Creed.